GA4GH Discovery Work Stream welcomes new Co-Lead Nara Sobreira of Johns Hopkins Medicine
14 Jul 2023
Nara Lygia De Macena Sobreira, associate professor of genetic medicine at Johns Hopkins University School of Medicine, joins the GA4GH Standards Steering Committee as Discovery Work Stream Co-Lead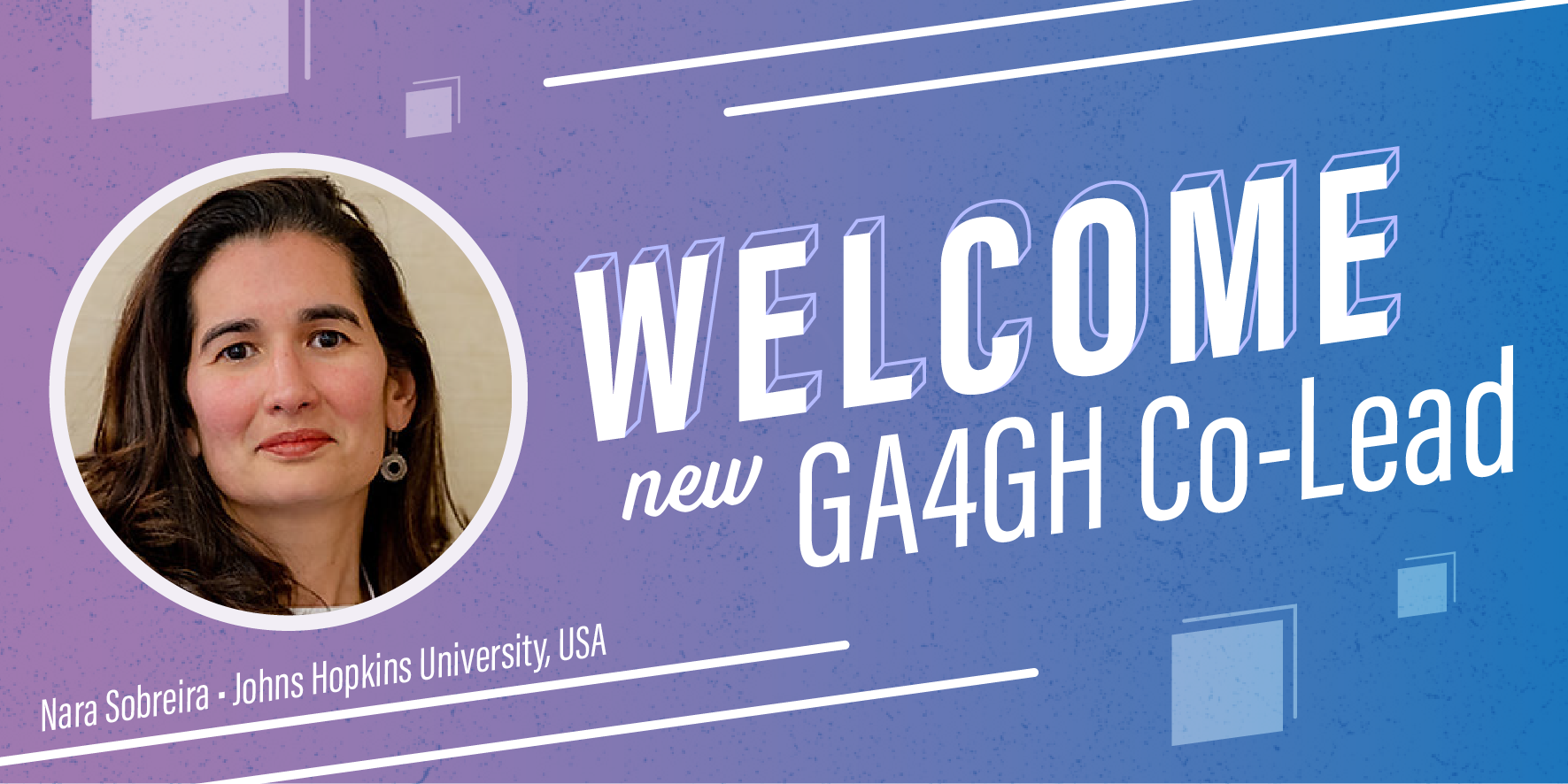 To boost progress in building networks of tools that can search the world's genomic wealth, Nara Sobreira has been appointed Co-Lead for the Discovery Work Stream of the Global Alliance for Genomics and Health (GA4GH).
She will steward connections among clinicians, health care professionals, researchers, and patients around the world — leading to safer, faster, and more efficient phenotypic and genomic data sharing that can improve patient care.
Sobreira is an associate professor of genetic medicine and paediatrics at the Johns Hopkins University School of Medicine and an expert in next-generation sequencing, rare Mendelian phenotypes, public genetic databases, and genetic analytical tools.
Having contributed to GA4GH for a decade, she will now shape efforts by the Discovery Work Stream to develop search tools that let researchers and clinicians find genomic data and services anywhere in the world.
Sobreira assumed the leadership role following the departure of Marc Fiume, a founding Discovery Co-Lead who had served since 2017 and is CEO of DNAstack.
"It has been such a gift to serve as Discovery Co-Lead," said Fiume. "Since the inception of the Discovery Work Stream in 2017, through new standards like Beacon v2.0, Data Connect, Service Information, and Service Registry, we have achieved substantial progress in making genomics data and services more discoverable — towards our ultimate vision of enabling an 'internet' for genomics and health research."
Sobreira will lead the Discovery Work Stream alongside Michael Baudis, a University of Zurich professor and group leader at the Swiss Institute of Bioinformatics, who has served as Co-Lead since 2020.
"We are pleased that Nara will be a strong voice representing clinical and global needs as we develop GA4GH standards for discovering genomic and phenotypic data," said Baudis.
Sobreira trained in medicine and human genetics at the University of Pernambuco, Universidade Federal de Sao Paulo, and Johns Hopkins, receiving an MD and a PhD. 
Her focus on identifying the genetic bases of rare phenotypes, for example in Ollier disease and Maffucci syndrome, led her to GA4GH. Sobreira began working with GA4GH in 2013 as part of the Matchmaker Exchange project, which aims to improve data sharing to facilitate the diagnosis of patients with rare diseases.
In addition to Matchmaker Exchange, Sobreira co-founded many important public efforts to store and share phenotypic and genomic data, including PhenoDB, GeneMatcher, and VariantMatcher. She created the free PhenoDB Variant Analysis Tool for evaluating patient data.
Sobreira will bring this crucial technical experience and user perspective to the next versions of GA4GH Discovery standards.
"Nara has been a longstanding champion of the Discovery Work Stream, particularly in the rare disease space, where federated discovery will play a crucial role in accelerating research and increasing solve rates. I am very excited for Nara to continue the momentum we have created together," said Fiume, the outgoing Co-Lead.
With her deep expertise in both research and medicine, Sobreira will bolster efforts by the Discovery Work Stream to make GA4GH search tools friendlier to a clinical audience. For instance, the recent Cohort Representation Study Group explored how to clearly define, describe, and search for cohorts of people with shared phenotypes.
Sobreira steps into GA4GH leadership at a pivotal time, when the amount of sequencing data in the world is growing at unmatched rates. With her guidance, the GA4GH Discovery Work Stream will continue helping clinicians and researchers find such plentiful data safely and easily — and translate the benefits to patients.
Latest News