Beacon
Enables researchers to discover new, relevant datasets while honouring patient consents and legal requirements
One of the bottlenecks in human biomedical research is finding datasets that researchers can analyse using new approaches. Developed by the GA4GH Discovery Work Stream, the Beacon API is a simple data discovery tool that allows someone to search genomic and biomedical data worldwide, helping researchers find new datasets without compromising dataset privacy or ownership.
Jump to...
Benefits
Allows users to query for biological data, phenotypic/clinical data, and metadata
Accepts queries using semantic codes such as CURIEs (e.g. phenotypes, disease codes, sex, or age)
Shows who to contact or where the data could be accessed and which are the data use conditions in order to get the data
Offers the possibility to query for the annotations on the variants found, including expert or clinician conclusions — when available — on the pathogenicity of a specific mutation in an individual or its contribution to a particular phenotype
Gives information about cohorts and/or study
Target users
Researchers, clinicians, data generators, data custodians, data protection authorities, and developers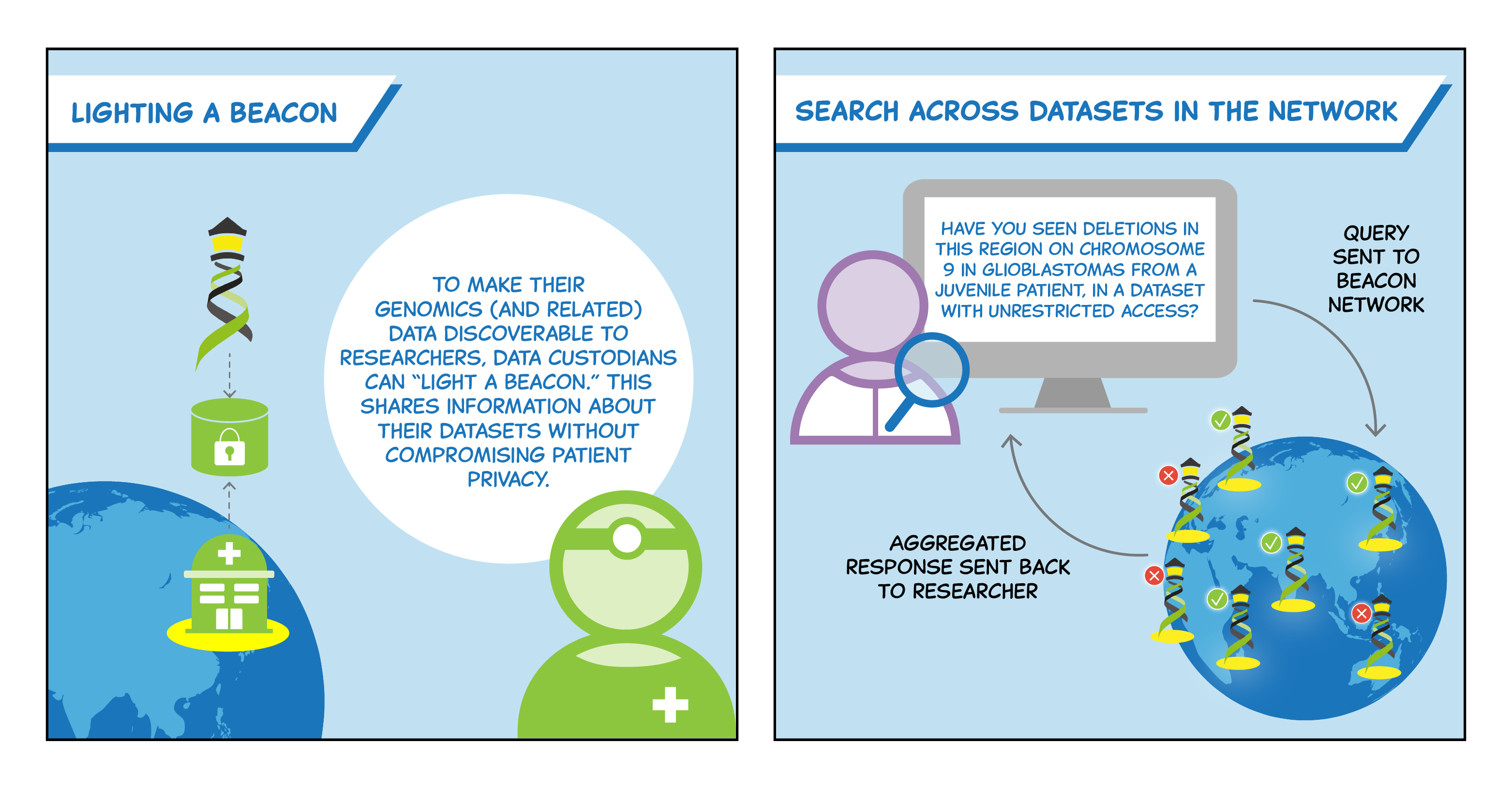 THEME
CATEGORY
TYPE
STATUS
Work Stream
LATEST VERSION
Product Leads
Anthony Brookes
Jordi Rambla
Michael Baudis
Staff Contact
Community resources
Dive deeper into this product! Beacon allows for the discovery of genomic, phenotypic, and clinical data. Earlier versions enabled researchers to get information about the presence or absence of a specific genomic mutation in a dataset, either from patients with a certain disease or from the population in general. The latest version of the Beacon API builds upon this premise, adding robust features for querying associated metadata, accessing annotations about the queried variant, searching information on cohorts, triggering the next step in the data access process, and more. The API contains two parts: a framework for how to deploy a Beacon, and a data model to describe genomic and clinical information. This modular approach gives the API significant flexibility in terms of how the data can be hosted, accessed, or queried, and enables interoperability between Beacons.
Title
Info
Repeat
Day
Time
Duration
This group meets to discuss current activities surrounding the Beacon API.
Title
Related Driver Projects and Organisations
ENA / EVA / EGA, EMBL's European Bioinformatics Institute (EBI), Centre for Genomic Regulation
Variant Interpretation for Cancer Consortium (VICC)
Don't see your name? Fill out our form:
Dixie Baker
Martin, Blanck and Associates
Michael Baudis
University of Zurich
Sergi Beltran
CNAG CRG
Guillaume Bourque
McGill University / Université McGill
Michael Brudno
University Health Network
David Bujold
McGill University / Université McGill
Salvador Capella-Gutierrez
Barcelona Supercomputing Center
Knox Carey
Intertrust Technologies Corporation
Miro Cupak
DNAstack
Joaquin Dopazo
Progress and Health Foundation
Marc Fiume
DNAstack
Paul Flicek
University of Cambridge
Lauren Fromont
Centre for Genomic Regulation
Gustavo Glusman
Institute for Systems Biology
Melissa Haendel
University of Colorado Anschutz Medical Campus
Dean Hartley
Autism Speaks
Sumit Jamuar
Global Gene Corp
Saumya Jamuar
KK Women's and Children's Hospital
Patrick Magee
DNAstack
Alice Mann
Wellcome Sanger Institute (WSI)
Mamana Mbiyavanga
University of Cape Town
Arshiya Merchant

Jean Muller
Laboratoire de génétique médicale (UMR_S 1112)
Heimo Muoller
Medical Univerisity Graz
Rahel Paloots
University of Zurich
Jordi Rambla
Centre for Genomic Regulation
Augusto Rendon
Genomics England
Manuel Rueda
Centro Nacional de Análisis Genómico (CNAG)
Babita Singh
Centre for Genomic Regulation
Dylan Spalding
CSC – IT CENTER FOR SCIENCE
Morris Swertz
University Medical Center Groningen
Susheel Varma
Information Commissioner's Office
Colin Veal
University of Leicester
Brian Walsh
Knight Diagnostic Laboratories, Oregon Health & Science University
Christina Yung
Ontario Institute for Cancer Research (OICR), Indoc Research
Joeri van der Velde
University Medical Center Groningen
News, events, and more
Catch up with all news and articles associated with Beacon.