Authorisation and Authentication Infrastructure (AAI)
Enables secure data sharing by communicating the permissions needed to conduct research
Secure data access across many different countries and institutions is critical to accelerating research. Developed by the GA4GH Data Security Work Stream in collaboration with the Data Use & Researcher Identities (DURI) Work Stream, the Authorisation and Authentication Infrastructure (AAI) specification can help automate the data access process by providing a mechanism to confirm a researcher's digital identity and check their data access permissions.
Jump to...
Benefits
Provides a secure method to authenticate a researcher's identity and authorise their permissions for data access
Allows centralisation of authentication and authorisation
Enables federated analysis
Target users
Developers, and security officers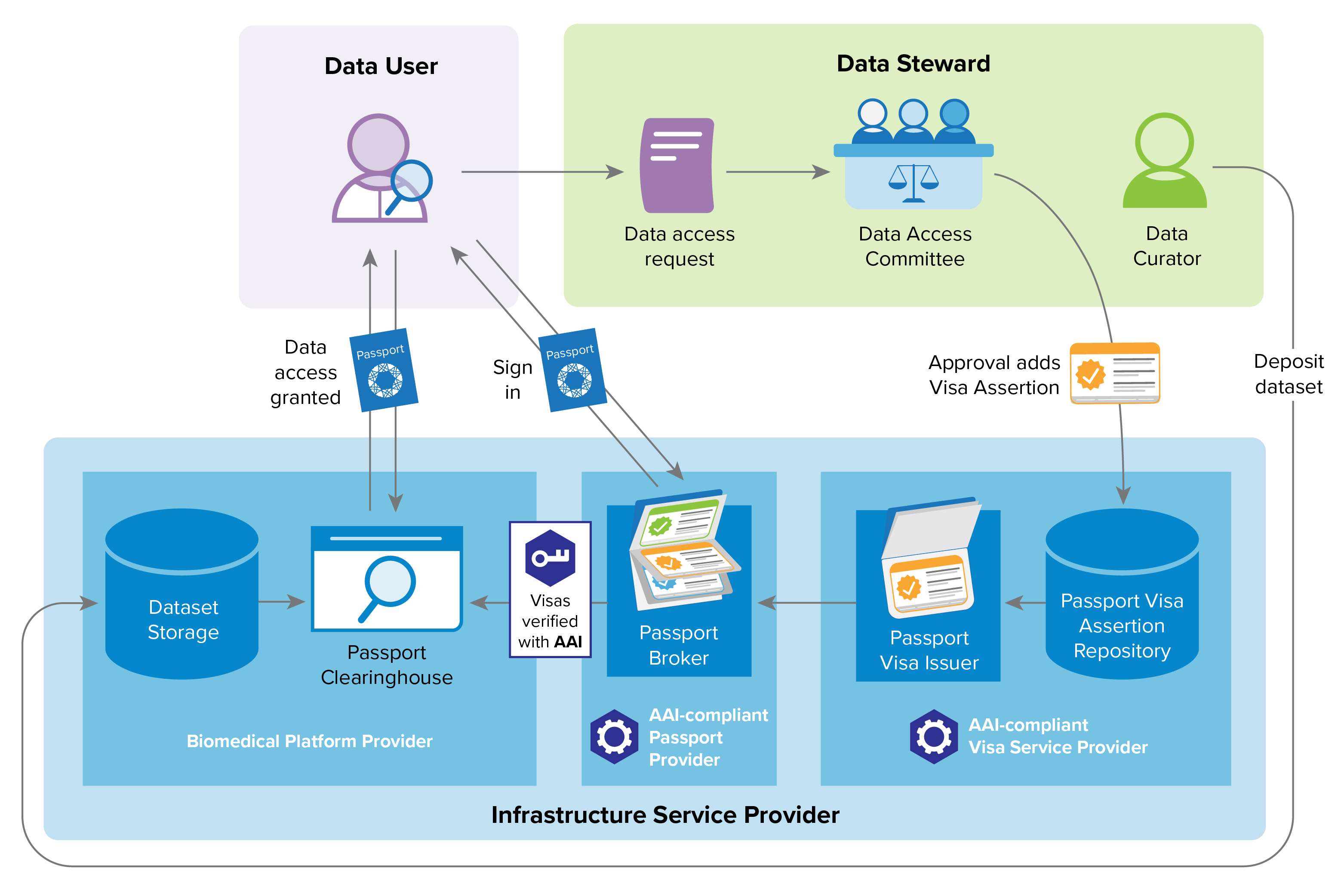 THEME
CATEGORY
TYPE
STATUS
Work Streams
LATEST VERSION
Product Lead
Staff Contact
Community resources
Dive deeper into this product! AAI leverages the OpenID Connect (OIDC) industry standard to authenticate researchers' identities and authorise their access to clinical and genomic resources. The specification employs access tokens to obtain "Passports" containing Visa tokens with specific permissions. These Passport and Visa tokens can be securely passed to other compatible data storage or analysis platforms and presented for subsequent data access requests. The AAI specification ultimately aims to develop an approach where data holders and data owners can recognise and accept identities across multiple systems, enabling researchers to get authorised access to more datasets and employ approaches such as federated analysis.
Title
Info
Repeat
Day
Time
Duration
A weekly meeting to discuss the GA4GH Passports and AAI standards.
Title
Related Driver Projects and Organisations
Don't see your name? Fill out our form:
Dixie Baker
Martin, Blanck and Associates
Max Barkley
DNAstack
Michael Baudis
University of Zurich
David Bernick
Broad Institute of MIT and Harvard
Steven Brenner
University of California, Berkeley
Salvador Capella-Gutierrez
Barcelona Supercomputing Center
Knox Carey
Intertrust Technologies Corporation
Thomas Conner
Broad Institute of MIT and Harvard
Jaime Delgado
Universitat Politecnica de Catalunya (UPC)
Marc Fiume
DNAstack
Dean Hartley
Autism Speaks
Allison Heath
Children's Hospital of Philadelphia
Melissa Konopko
ELIXIR
Martin Kuba
Masaryk University, ELIXIR Cloud and AAI
Fabio Liberante
Wellcome Sanger Institute (WSI)
Alice Mann
Wellcome Sanger Institute (WSI)
Tommi Nyrönen
CSC – IT CENTER FOR SCIENCE
Jimmy Payyappilly
EMBL's European Bioinformatics Institute (EBI)
Kurt Rodarmer
Independent Contributor
Christopher Siwy
NIH Office of Data Science Strategy (ODSS)
Heidi Sofia
NIH National Human Genome Research Institute (NHGRI)
Dylan Spalding
CSC – IT CENTER FOR SCIENCE
Douglas Voet
Broad Institute of MIT and Harvard
Craig Voisin
Google LLC
News, events, and more
Catch up with all news and articles associated with Authorisation and Authentication Infrastructure (AAI).