Data Connect
Connects researchers to information on datasets regardless of how the data was originally stored or formatted
The ability to combine datasets from multiple projects and institutions all over the world can greatly accelerate scientific research. In the healthcare and biomedical research ecosystems, however, data generators store their data in a myriad of formats, structures, and locations. These technical differences have made it challenging for researchers to search, aggregate, and analyse data from multiple sources. Correspondingly, it is expensive for data providers to restructure existing data to fit the requirements of highly-structured, highly-opinionated sharing systems.
As a result, the data goes unshared and undiscovered. Developed by the GA4GH Discovery Work Stream, the Data Connect API aims to address this problem by providing a simple, flexible mechanism to connect researchers to information about otherwise disparate datasets, regardless of how the data was originally stored or formatted.
Jump to...
Benefits
Works with any data that can be serialised as an array of JSON objects
Supports federation
Can be implemented across a large variety of data stores
Target users
Researchers, data custodians, and developers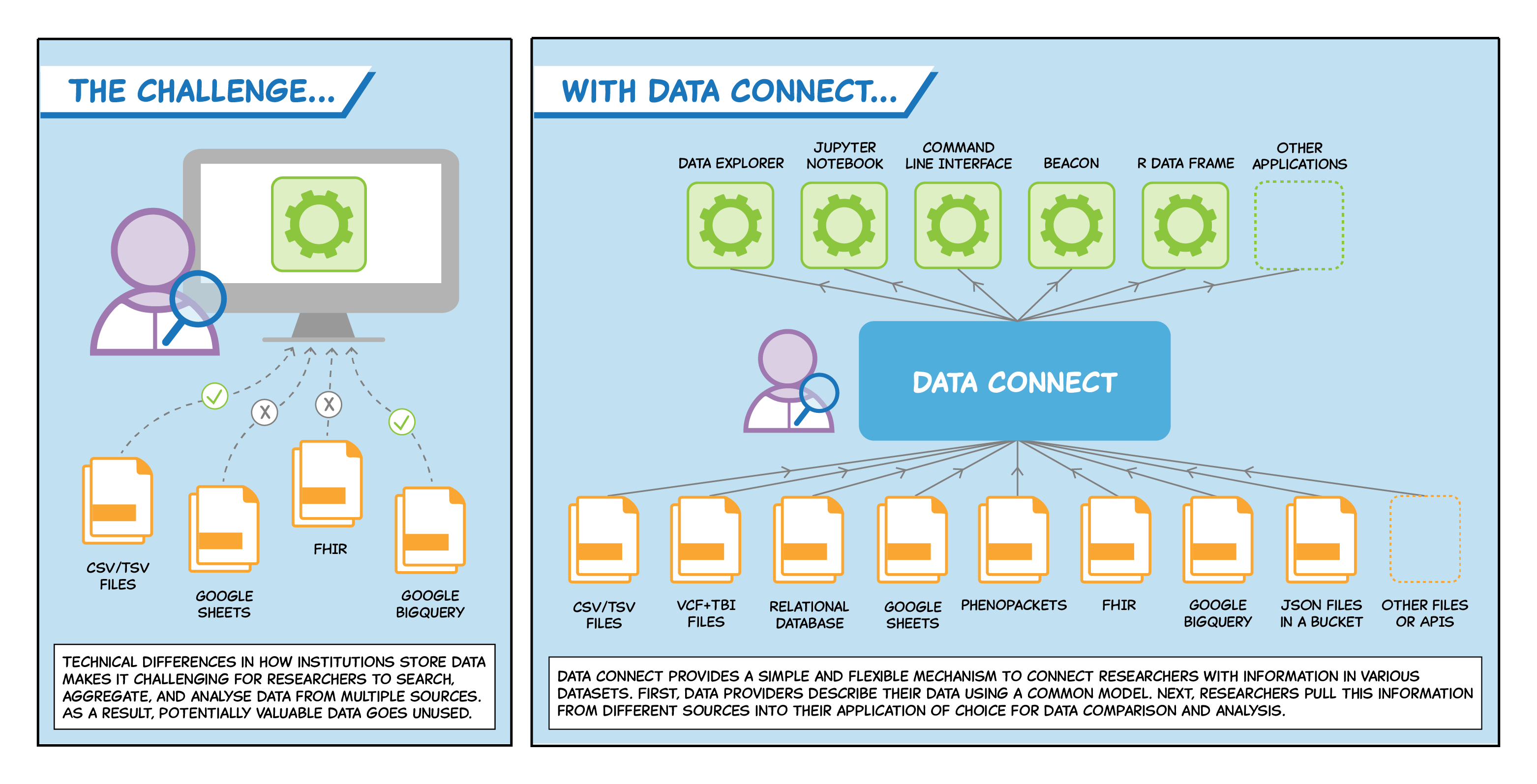 THEME
CATEGORY
TYPE
STATUS
Work Stream
LATEST VERSION
Product Leads
Miro Cupak
Jonathan Fuerth
Staff Contact
Community Resources
Dive deeper into this Product!Data Connect is a general-purpose middleware for building federated, search-based applications. The API consists of two components. The first component allows data providers to describe the datasets they have and their underlying model using a common JSON schema. The second part enables researchers to write custom queries to learn more about datasets of interest. The two components are independent of one another, and one can implement the first piece without the second.
#
Title
Info
Repeat
Day
Time
Duration
#
Title
Related Driver Projects and Organisations
#
Don't see your name? Fill out our form:
Michael Baudis
University of Zurich
Shu Hui Chen
NIH National Heart, Lung, and Blood Institute (NHLBI)
Miro Cupak
DNAstack
Marc Fiume
DNAstack
Ian Fore
NIH National Center for Biotechnology Information (NCBI)
Jonathan Fuerth
DNAstack
David Glazer
Verily
Dean Hartley
Autism Speaks
Alice Mann
Wellcome Sanger Institute (WSI)
Kathy Reinold
Independent Contributor
Nara Sobreira
Johns Hopkins University School of Medicine
News, events, and more
Catch up with all news and articles associated with Data Connect.