Policy on Clinically Actionable Genomic Research Results
Provides guidance on establishing policies for returning genomic results to research participants
There are potential medical benefits to the millions of individuals who are participating in genomics research. If identified genetic risks can be treated in the clinic, such knowledge could be life-changing. But many research programmes lack clear guidance on if, when, and how to return clinically actionable genomic results to their participants in an ethical manner. Developed by the GA4GH Regulatory & Ethics Work Stream (REWS), the Policy on Clinically Actionable Genomic Research Results provides guidance on establishing custom return-of-results policies.
Jump to...
Benefits
Provides actionable strategies for developing return of results policies
Acknowledges the differing levels of evidence behind the clinical utility of actionable genomic research results, and the complexities involved in returning such information to individuals in an ethically and legally appropriate manner
Target users
Researchers, and clinicians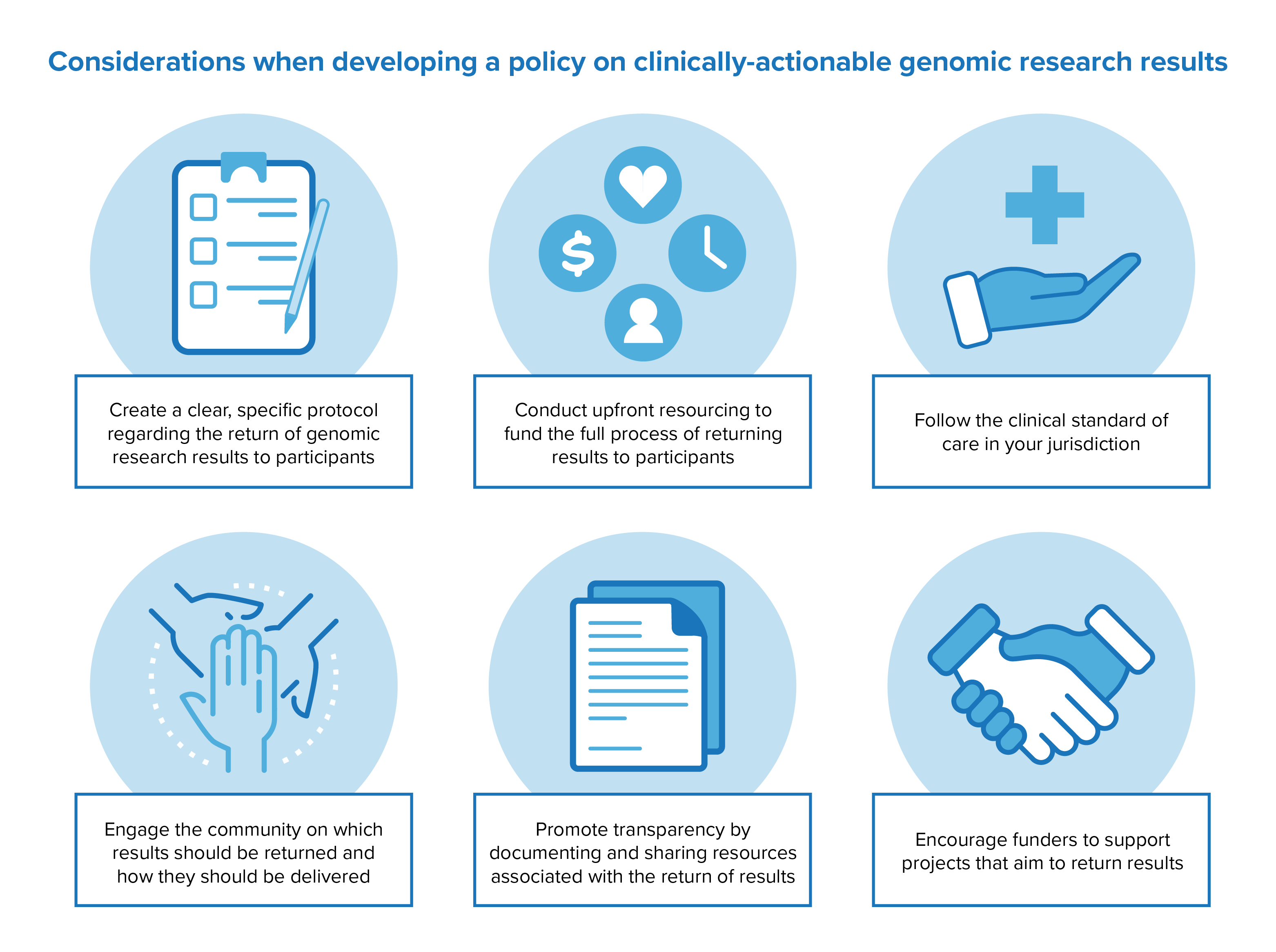 THEME
CATEGORY
TYPE
STATUS
Work Stream
LATEST VERSION
Product Leads
Staff Contact
Community Resources
Dive deeper into this Product!Responsible disclosure of clinically actionable genomic findings to research participants who have chosen to receive them can advance data sharing and benefit the research participants themselves. Achieving transparency at all stages of data sharing for all relevant parties helps motivate the move towards a clear minimum global standard with regards to the return of results. The Policy on Clinically Actionable Genomic Research Results provides guidance on establishing return of results policies that can be customised to different contexts or unique settings. The guidance emphasises the need to prepare a clear, concise protocol for returning results at the start of a project, establish funding and resources to ensure accountability, develop return of results policies with local clinical standards in mind, effectively engage participants with strategies shared in the GA4GH Engagement Framework, make tools, protocols, and resources available to other study designers to promote collaboration, and engage funders to support the return of results.
#
Don't see your name? Fill out our form:
Yvonne Bombard
University of Toronto, Unity Health Toronto
Subhashini Chandrasekharan
National Institutes of Health (NIH)
Shu Hui Chen
NIH National Heart, Lung, and Blood Institute (NHLBI)
Aida Beatriz Falcon de Vargas
Hospital Vargas de Caracas
Clara Gaff
Melbourne Genomics Health Alliance
Robert Green
Broad Institute of MIT and Harvard, Harvard Medical School, Mass General Brigham
Shona Kerr
MRC Human Genetics Unit
Anna Lewis
Harvard University
Richard Milne
Wellcome Connecting Science, Wellcome Genome Campus
Christine Patch
Wellcome Connecting Science, Wellcome Genome Campus
Pedro Rondot Radico
Angel H. Roffo Institute of Oncology
Amanda Spurdle
QIMR Berghofer Medical Research Institute
Adrian Thorogood
Terry Fox Research Institute
Danya Vears
Murdoch Children's Research Institute
Eva Winkler
German Cancer Research Center (DKFZ) / National Center for Tumor Diseases (NCT)
News, events, and more
Catch up with all news and articles associated with Policy on Clinically Actionable Genomic Research Results.