Second issue of Cell Genomics features GA4GH
10 Nov 2021
The Global Alliance for Genomics and Health (GA4GH) takes center stage in the second issue of the new journal, Cell Genomics.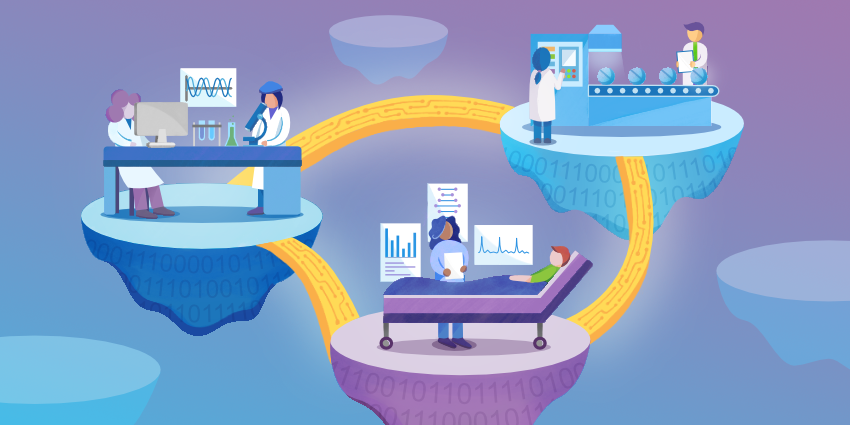 The Global Alliance for Genomics and Health (GA4GH) takes center stage in the second issue of the new journal, Cell Genomics. Ten papers make up this special issue, including a marker paper that provides a high-level overview of the GA4GH organization, deliverables, and strategy for enabling interoperability across the international genomics landscape. The issue also includes a commentary on the concept of federation, a preview article on the impact of GA4GH on global interoperability from the leads of the NIH All of Us research program (a GA4GH Driver Project), three technical standards papers, and implementation papers from CanDIG (also a Driver Project) and the Broad Institute (a GA4GH Host Institution). Rounding out the collection are a Q&A with members of the GA4GH Executive Committee and a series of brief commentaries from active contributors on their personal experiences of collaborating with GA4GH. The cover art was created by GA4GH Creative Lead, Stephanie Li.
Orli Bahcall, Editor-in-Chief of Cell Genomics and first individual member of GA4GH, invited the papers to be a part of the roll out of the new journal, which is de novo in the field as the first premier research journal to adopt the Gold Open Access publishing model. By focusing on open science and dissemination, Cell Genomics holds true to the values of the community it represents. "For a field in which the foundation has been based on open access resources and methods, it is essential that the publications are also open access without restrictions," said Bahcall in a recent interview. 
In the marker paper, titled "GA4GH: International policies and standards for data sharing across genomic research and healthcare," first author Heidi Rehm (vice-chair of GA4GH) and more than 200 co-authors from the GA4GH contributor community present the organization's strategies for addressing some of the most pressing challenges of the genomic data revolution. The authors dive into the GA4GH toolkit of secure, interoperable technical standards and policy frameworks, their relevance to key domains of research and clinical care, and the organization's future plans. 
"The genomics research community has had a long history of broad international collaboration," said Rehm. "Today we need to build on that legacy as we move into the era of genomic medicine. The work of GA4GH will help catalyze an unprecedented effort to share data across research and clinical domains and will help ensure that all populations can access the benefits promised by the field.
In a commentary, "International Federation of Genomic Medicine Databases Using GA4GH Standards," first author Adrian Thorogood and colleagues present the organization's perspective on the concept of federation, defined as a consortium of independent organizations that each host their own data in a secure, standardized manner so that users can responsibly access data across multiple resources and derive otherwise obscured insights.
Three of the papers present work on streamlining the data access process across the two axes of data use and researcher identity, spearheaded by the GA4GH Data Use and Researcher Identities Work Stream. Two of these papers, "The Data Use Ontology [DUO] to streamline responsible access to human biomedical datasets" (first authors Jonathan Lawson and Moran Cabili) and "GA4GH Passport standard for digital identity and access permissions," (first authors Craig Voisin, Mikael Linden, Stephanie Dyke, and Sarion Bowers) are the first publications to formally introduce those standards to the scientific community. 
The passports standard encodes machine-readable data access permissions for individual users to access biomedical datasets across a federated network of shared authentication and authorization processes. The Passports paper presents a series of real-world implementations at ELIXIR Europe, the US National Institutes of Health, and the Autism Sharing Initiative. 
DUO provides a mechanism for data stewards to consistently and unambiguously represent data use terms while the Passport standard defines a machine-readable digital identity that conveys roles and data access permissions for individual users. An empirical evaluation of DUO is presented in a separate paper titled, "Empirical Validation of an Automated Approach to Data Use Oversight," from co-first authors Jonathan Lawson and Moran Cabili and their colleagues at the Broad Institute of MIT and Harvard. 
In addition to data access, the special issue also presents work to streamline the process of reliably exchanging genetic variation data between clinicians, researchers, and testing laboratories. In "The GA4GH Variation Representation Specification (VRS): a Computational Framework for the Precise Representation and Federated Identification of Molecular Variation", first author Alex Wagner (Nationwide Children's Hospital and the Ohio State University) and colleagues present VRS, which was developed in partnership with national information resource providers, public initiatives, and diagnostic testing laboratories. The VRS framework provides a semantically precise and computable representation of variation that complements contemporary human-readable and flat file standards for variation representation. 
"We are extremely proud of this compendium of GA4GH papers," said Ewan Birney, Chair of GA4GH, Deputy Director General of EMBL and a co-senior author on the marker paper. "The issue marks an important moment for the organization, as we move toward more mature standards that are beginning to see wide adoption across the globe."
"The entire GA4GH community has come together across time and space to deliver the resources described in this special issue," said GA4GH CEO Peter Goodhand. "It represents an important milestone in the evolution of this organization."
"GA4GH is so successful because of the spirit of collaboration and engagement that underpins everything we do," said GA4GH Vice-Chair, Kathryn North. "The process of putting this issue together further reflects the dedication, passion, and commitment of our community and we are delighted to see it come to fruition."
"The Wellcome Sanger Institute has been a Host Institution of GA4GH since it's earliest days, and many members of our community are authors on these papers. We are delighted to be able to support — and participate in — this important global initiative," said Julia Wilson, Associate Director of the Wellcome Sanger Institute and a long-time contributor to GA4GH. 
Latest News