Variation Representation (VRS)
Used by computers to structure and exchange information about variants
Between any two individuals, the human genome differs by around 0.1% — meaning each individual has millions of sites in their genome that collectively make them unique. The impact of genetic variation on human health and disease is complex and immense; in order to accelerate research and advance patient care, it is vital to unlock the potential of the world's genetic variation data and exchange it reliably across diagnostic labs, electronic health records (EHRs), research institutions, and knowledge-bases. Developed by the GA4GH Genomic Knowledge Standards (GKS) Work Stream, the Variation Representation Specification (VRS) is a computational "language" that enables consistent communication across these systems.
Jump to...
Benefits
Enables scalable federated computable exchange of genetic variants
Allows interoperable reuse within other specifications due to its modular design
Provides a framework for variation in linked data exchange
Target users
Researchers, clinicians, and clinical laboratories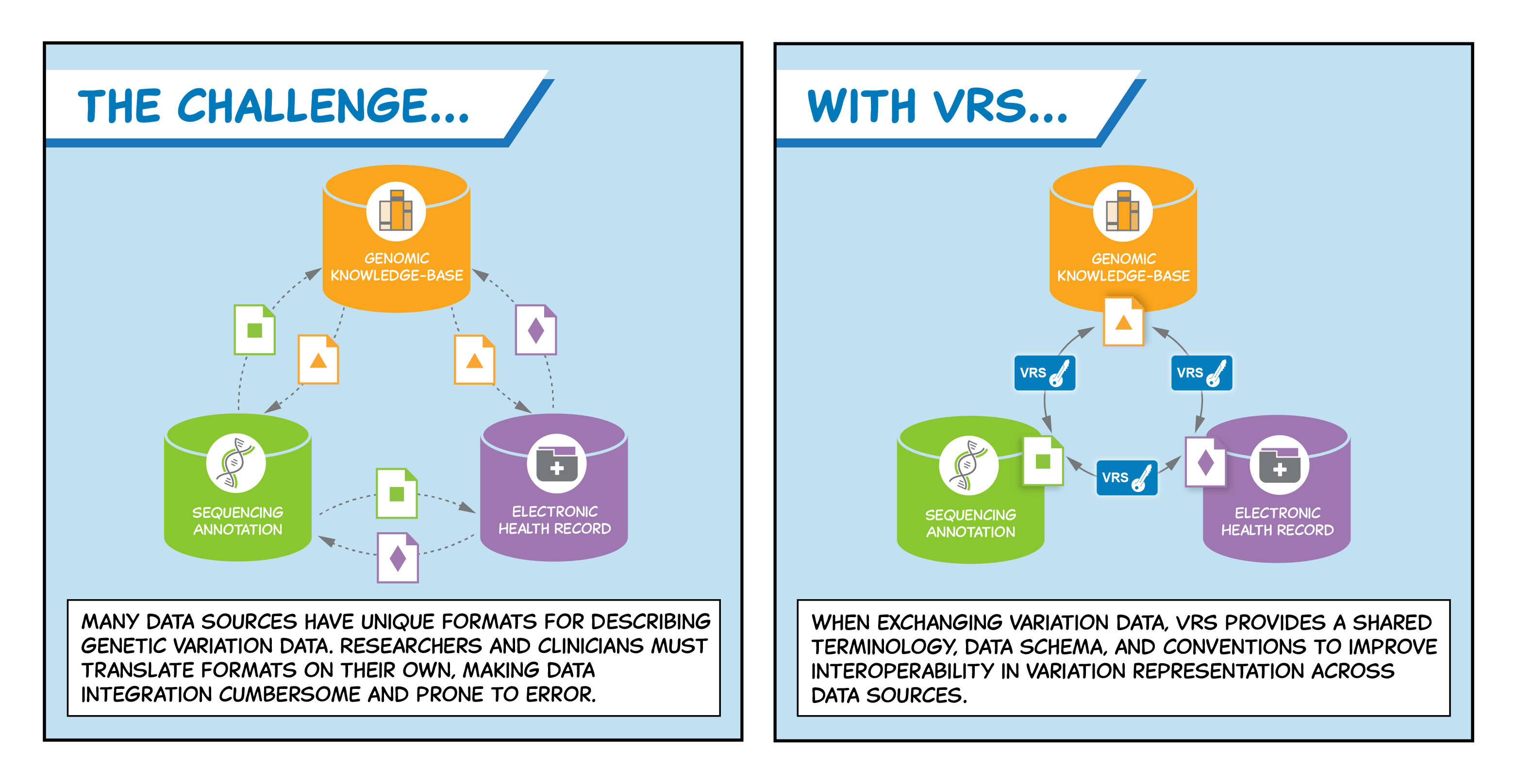 THEME
CATEGORY
TYPE
STATUS
Work Stream
LATEST VERSION
Product Leads
Staff Contact
Community resources
Dive deeper into this product!
Maximising the personal, public, research, and clinical value of genomic information will require clinicians, researchers, and testing laboratories to exchange genetic variation data reliably. VRS provides a community-developed specification to enable the precise representation and exchange of genetic variation data. The specification is designed to improve the reliability and utility of the clinical annotations that are central to personalised medicine, and consists of five components:
An extensible terminology and information model containing precise computational definitions for biological concepts
A machine readable schema to structure genetic variation data for electronic data exchange
Conventions for reliable data sharing, allowing researchers to easily compare and interpret information across institutions
Algorithms to generate globally unique computed identifiers to refer to a specific genetic variant without prior coordination
A python implementation to demonstrate the VRS components in action
Title
Info
Repeat
Day
Time
Duration
This working meeting focused on implementation support aims to create cloud-based services and tools for generating, transforming, and validating content using the GKS specifications.
This working meeting focused on implementation support aims to create cloud-based services and tools for generating, transforming, and validating content using the GKS specifications.
Meets on the third Monday of each month.
Title
Related Driver Projects and Organisations
Variant Interpretation for Cancer Consortium (VICC)
Don't see your name? Fill out our form:
Larry Babb
Broad Institute of MIT and Harvard
Steven Brenner
University of California, Berkeley
Daniel Cameron
Walter and Eliza Hall Institute of Medical Research
Bimal Chaudhari
Nationwide Children's Hospital
Melissa Cline
University of California, Santa Cruz
Raymond Dalgleish
University of Leicester
Kyle Ferriter
Broad Institute of MIT and Harvard
Robert Freimuth
Mayo Clinic
Wesley Goar
Nationwide Children's Hospital
Malachi Griffith
The Genome Institute at Washington University
Melissa Haendel
University of Colorado Anschutz Medical Campus
Reece Hart
MyOme
Seik-Soon Khor
National Center for Global Health and Medicine
Melissa Konopko

Kori Kuzma
Nationwide Children's Hospital
Jennifer Lee
Sequencing.com
Christa Lese Martin
Geisinger Health System
Xuelu (Jeff) Liu
Dana-Farber Cancer Institute
Anna Lu
NIH National Cancer Institute (NCI)
Eric Moyer
NIH National Center for Biotechnology Information (NCBI)
Tristan Nelson
Geisinger Health System
Vivek Nuthalapati
Epic Systems
Andreas Prlić
Invitae, Inc.
Heidi Rehm
Massachusetts General Hospital, Broad Institute of MIT and Harvard
Kevin Riehle
Baylor College of Medicine
Alan Rubin
Walter and Eliza Hall Institute of Medical Research
Anastasia Smith
Nationwide Children's Hospital
Kathryn Stahl
Nationwide Children's Hospital
James Stevenson
Nationwide Children's Hospital
Jing Su
Wellcome Sanger Institute (WSI)
Mrinal Thomas
Epic Systems
Alex Wagner
The Ohio State University College of Medicine, Nationwide Children's Hospital
Brian Walsh
Knight Diagnostic Laboratories, Oregon Health & Science University
Ziying Yang
University of Zurich
Andy Yates
EMBL's European Bioinformatics Institute (EBI)
Zhenyu Zhang
University of Chicago
Hangjia Zhao
University of Zurich
News, events, and more
Catch up with all news and articles associated with Variation Representation (VRS).