RNAget
Provides a common set of communication channels to efficiently retrieve RNA data of interest
The human body contains thousands of genes that support biological activities, from initiating processes like digestion to fighting off illness. To study gene expression, researchers use RNA sequencing — a powerful technology that captures gene activity levels based on the amount of RNA present in a cell. RNA sequencing experiments, however, require anywhere between 15 to 200 million RNA segments per biological sample. Such experiments can produce massive and complex files that are challenging to parse through and difficult to manage at scale. Developed by the GA4GH Large Scale Genomics (LSG) Work Stream, the RNAget API provides a common set of communication channels that allows researchers to efficiently retrieve RNA data of interest.
Jump to...
Benefits
Retrieves RNA data of interest, saving time and disk storage space
Enables interoperability and harmonisation with other institutions through common RNA data structures
Target users
Researchers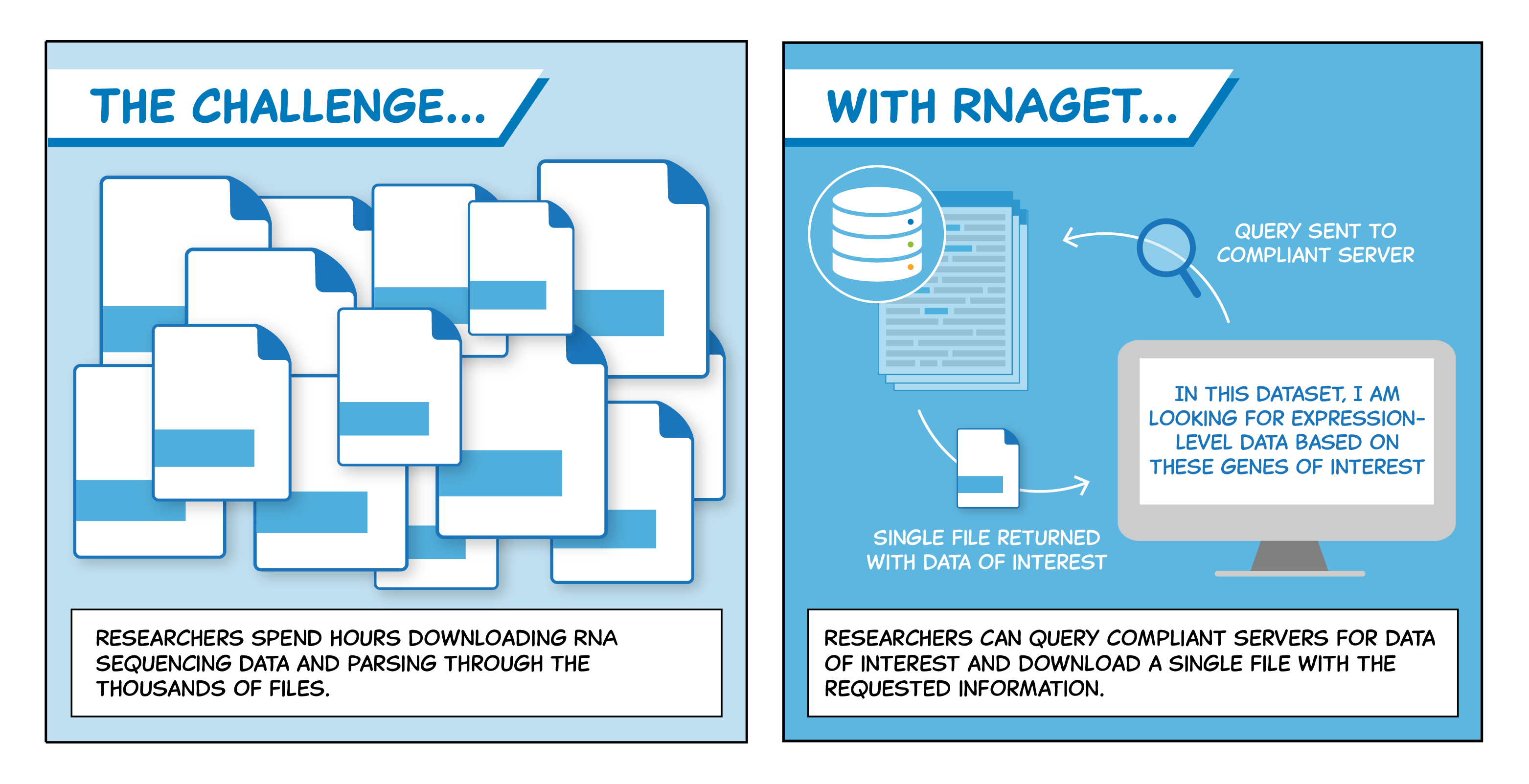 THEME
CATEGORY
TYPE
STATUS
Work Stream
LATEST VERSION
Product Leads
Sean Upchurch
Emilio Palumbo
Staff Contact
Community resources
Dive deeper into this product! RNAget  describes a common set of endpoints to search and retrieve processed RNA data. Currently, the RNAget API allows for the retrieval of four data types: expression-level data based on a gene of interest; data from specific genomic coordinates; project-related information; and study-related information. The RNAget API allows the requester to specify a slice of the overall matrix for delivery — helping reduce the amount of data to transfer, and focusing data mining efforts. For the API to work seamlessly, the specification includes a testing application for servers to implement, ensuring compliance with the RNAget API.
Title
Info
Repeat
Day
Time
Duration
Working meeting focused on endpoints for search and retrieval of processed RNA data.
Meets on the third Wednesday of the month.
Title
Related Driver Projects and Organisations
Don't see your name? Fill out our form:
Jeremy Adams
DNAstack
Guillaume Bourque
McGill University / Université McGill
David Bujold
McGill University / Université McGill
Romain Gregoire
Canadian Centre for Computational Genomics
Roderic Guigo
Centre for Genomic Regulation
Ben Hitz
Stanford University
Emilio Palumbo
Centre for Genomic Regulation
Emilio Righi
Centre for Genomic Regulation
Sean Upchurch
California Institute of Technology
Andy Yates
EMBL's European Bioinformatics Institute (EBI)
Zhenyu Zhang
University of Chicago
News, events, and more
Catch up with all news and articles associated with RNAget.