New templates streamline gaining consent for clinical genomics and large-scale initiatives — completing the GA4GH Consent Toolkit
11 Aug 2022
To aid researchers and clinicians in developing clear and digestible consent forms, the GA4GH Regulatory and Ethics Work Stream (REWS) has developed Consent Clauses for Large Scale Initiatives and Clinical Genomic Consent Clauses. These latest additions complete the REWS Consent Toolkit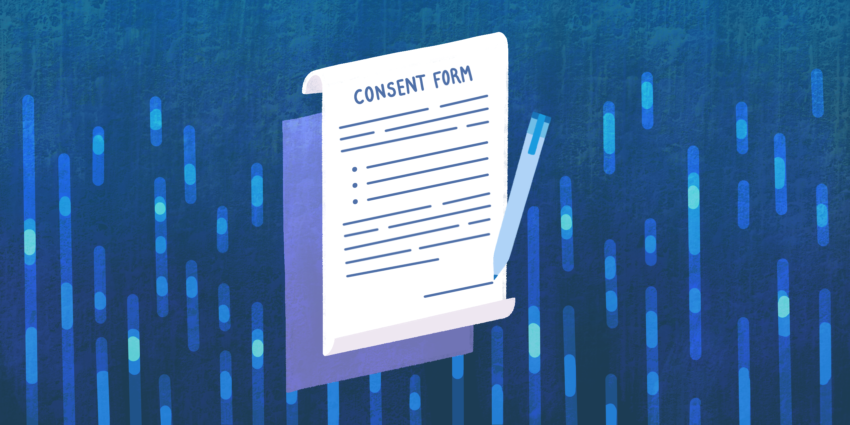 Informed consent undergirds the practices of research and medical care. Yet patient and participant consent forms are often long documents that are difficult to understand, leading to confusion, suspicion, or even serious ethical harm. Two templates from the Global Alliance for Genomics and Health (GA4GH) aim to help researchers and clinicians draft more accessible consent forms.
As genomic testing becomes an integral part of research and healthcare, participants and patients may have a host of questions — from what genomic sequencing is in the first place, to what results and information will be reported back to them, to how the data will be stored to protect their identity and privacy.
To aid researchers and clinicians in developing clear and digestible consent forms, the GA4GH Regulatory and Ethics Work Stream (REWS) has developed Consent Clauses for Large Scale Initiatives and Clinical Genomic Consent Clauses.
Approved by the GA4GH Standards Steering Committee earlier this year, these latest additions complete the Consent Toolkit — a series of template clauses that the genomics and health community can reference and adapt when drafting consent forms for genomic studies or testing. Other resources in the Consent Toolkit include Familial Consent Clauses, Pediatric Consent Clauses, Consent Clauses for Genomic Research, and the Model Consent Clauses for Rare Disease Research.
Consent Clauses for Large Scale Initiatives
The Consent Clauses for Large Scale Initiatives document provides an inventory of template consent clauses for studies involving large scale data collection, such as biobank or population studies.
"We hope these clauses can serve as a resource for researchers," said Meg Doerr, Director of Applied Ethical, Legal, and Social Implication Research at Sage Bionetworks and Co-Lead of the Consent Clauses for Large Scale Initiatives effort. "We reviewed a range of consent clauses from different studies and countries and distilled them into simple, accessible language that researchers can customise for their specific context."
Altogether, the REWS Consent Task Force collated consent forms used by more than a dozen national and multinational initiatives.
"We then categorised our inventory by questions a participant may have," continued Susan E. Wallace, Honorary Lecturer at the University of Leicester, UK, and a contributing member of the Task Force. "By doing so, we hope to encourage researchers to prioritise and focus on the participant experience."
The clause catalogue provides sample language to help researchers create a consent form. For example, clauses describe the study, outline what researchers will ask the participant to do, detail what actions they will take on the DNA sample or information, and share who else might have access to the data.
Clinical Genomic Consent Clauses
The Clinical Genomic Consent Clauses document is a typology of clauses for authorising genomic testing as part of a patient's clinical care. With growing frequency, clinicians are integrating genomic sequencing into diagnosis and precision medicine. It is vital to help patients understand the purpose of this genomic testing and their results. As such, the consent clauses are intentionally brief and concise.
"It is important to foster trust and transparency, especially when people need to make important decisions related to their personal health and medical care," said Bartha Maria Knoppers, Director of the Centre of Genomics and Policy at McGill University and Co-Lead in developing the Clinical Genomic Consent Clauses. "Unfortunately, many hospital settings don't have opportunities for in-depth communication with the patient. We hope these clauses can provide that starting point."
To build the typology, the Task Force analysed more than 12 genomic consent forms currently in use in healthcare systems around the world.
The template clauses focus on the impact of genomic testing on the patient, providing sample language on what information will be reported back to the patient, how to understand the results, what happens when unexpected information is discovered, and when the provider may recontact the patient in the future. The resource also includes a sample authorisation form for reference.
Similar to the other consent clauses in the Consent Toolkit, the Clinical Genomics document also explains the basics of genomic testing, including how the patient's sample and data will be stored and shared, as well as procedures for protecting patient privacy.
Encouraging ethical data sharing
Participant and patient consents play a crucial role in responsible data exchange and secondary use of health data for research.
To enable accurate and efficient data sharing, researchers and clinicians can represent clauses from the Consent Toolkit in a machine-readable way, using the GA4GH Machine-Readable Consent Guidance — a partnership between REWS and the Data Use and Researcher Identities (DURI) Work Stream.
Writing consent forms that computers can read enables a continual learning system between research and healthcare. In other words, when a patient's consents clearly and accurately map to their data, authorised researchers can access the data to fuel new research and insights into human health and disease.
"With Consent Clauses for Large Scale Initiatives and Clinical Genomic Consent Clauses now part of the Consent Toolkit, we can empower not only participant and patient communities in making informed decisions, but also the research and health communities to become trusted partners in the process," said Kristina Kékesi-Lafrance, Clinical Ethicist at the Montréal West Island Integrated University Health and Social Services Centre and Co-Lead of the Clinical Genomic Consent Clauses effort.
Latest News