Machine Readable Consent Guidance (MRCG)
Describes how to map consent forms directly to the Data Use Ontology (DUO)
Incorporating standard data sharing language into consent forms is beneficial for all parties involved. Participants can have a clear understanding of how their genomic and health data will be used, allowing them to make informed decisions about their personal information. Researchers and governing bodies can clearly understand the data use conditions of any dataset, thus streamlining the data access process.
The Data Use Ontology (DUO) supports this goal by providing standard codes that specify the use conditions of a dataset. To explain how to create consent forms that map directly to DUO, the GA4GH Data Use & Researcher Identities (DURI) Work Stream and Regulatory and Ethics Work Stream (REWS) co-created Machine Readable Consent Guidance (MRCG). The document allows institutions to automate and expedite aspects of the data access process.
Jump to...
Benefits
Supports automation of consent collection and tracking
Supports automation of the data access process
Provides consent clause summaries and descriptions for each DUO code
Target users
Data generators, data access committees, and data protection authorities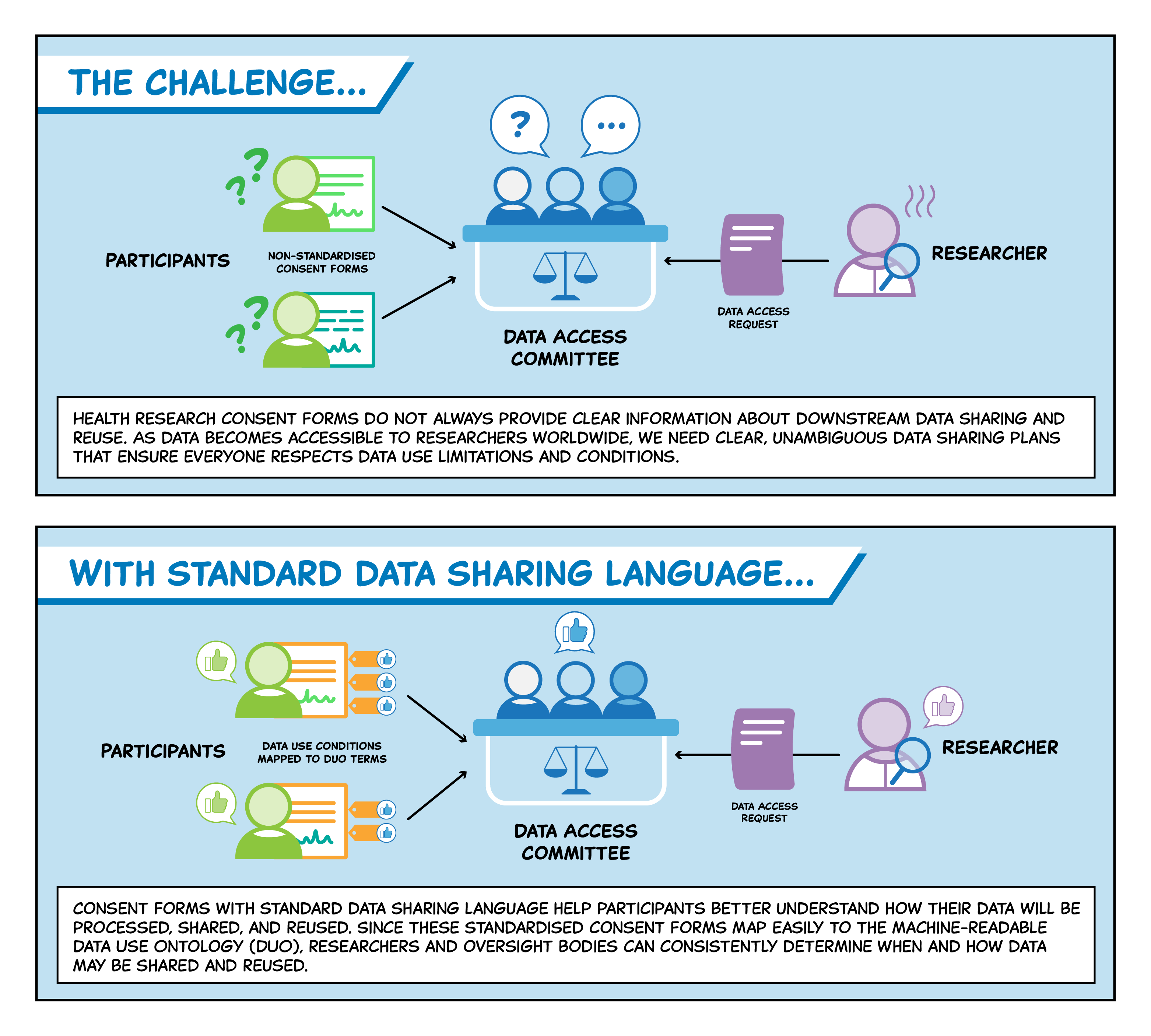 THEME
CATEGORY
TYPE
STATUS
Work Streams
LATEST VERSION
Product Leads
Adrian Thorogood
Tiffany Boughtwood
Staff Contact
Community resources
Dive deeper into this product!
When drafting consent forms and information sheets for a research project, researchers may start by obtaining a template from their research ethics committee. However, it is often unclear what specific language will explain how a participant or patient's data may be shared or used for secondary research. To streamline the data access process while protecting participant and patient consents, DUO provides standard codes to unambiguously specify the conditions under which a dataset should be used.
In order to help researchers and governing bodies translate consent forms into DUO codes, DURI and REWS developed MRCG. The guidance explains how to draft a machine-readable consent form that correlates with DUO. Doing so renders the consent machine-readable, which can in turn help automate and expedite the collection and tracking of consent and the data access process. MRCG outlines three criteria: a short consent clause providing a ​summary​ description of the data use terms, a detailed ​explanation of the meaning of the data use terms, and an optional consent form ​appendix that maps the consent language to DUO codes.
Don't see your name? Fill out our form:
Tiffany Boughtwood
Australian Genomics
Mélanie Courtot
Ontario Institute for Cancer Research (OICR)
Clara Gaff
Melbourne Genomics Health Alliance
Jaime Guidry Auvil
NIH National Cancer Institute (NCI)
Alice Mann
Wellcome Sanger Institute (WSI)
Mizuki Morita
Okayama University
Tommi Nyrönen
CSC – IT CENTER FOR SCIENCE
Soichi Ogishima
Tohoku University Tohoku, Medical Megabank Organization
Adrian Thorogood
Terry Fox Research Institute
Susheel Varma
Information Commissioner's Office
Chisato Yamasaki
National Institute of Biomedical Innovation, Health and Nutrition (NIBIOHN)
News, events, and more
Catch up with all news and articles associated with Machine Readable Consent Guidance (MRCG).