Tool Registry Service (TRS)
Provides a standard mechanism to list, search, and retrieve tools and workflows across multiple registries
Researchers use genomics tools and workflows to conduct analyses in cloud computing environments. Tools and workflows, however, are often developed for a specific environment and are stored in a registry that services only associated platforms. Since each registry requires the tools and workflows it stores to meet a unique set of criteria, the contents of one registry are not guaranteed to work across multiple cloud environments. This lack of interoperability slows research and limits the variety of analyses that researchers can perform. Developed by the GA4GH Cloud Work Stream, the Tool Registry Service (TRS) API provides a standard mechanism to list, search, and register tools and workflows across multiple registries.
Jump to...
Benefits
Allows for the exchange and discovery of tools and workflows that analyse, read, and manipulate genomic data
Enables interoperability of tools and workflows
Supports four of the most widely used workflow languages and is easily extendable to more
Target users
Researchers, and developers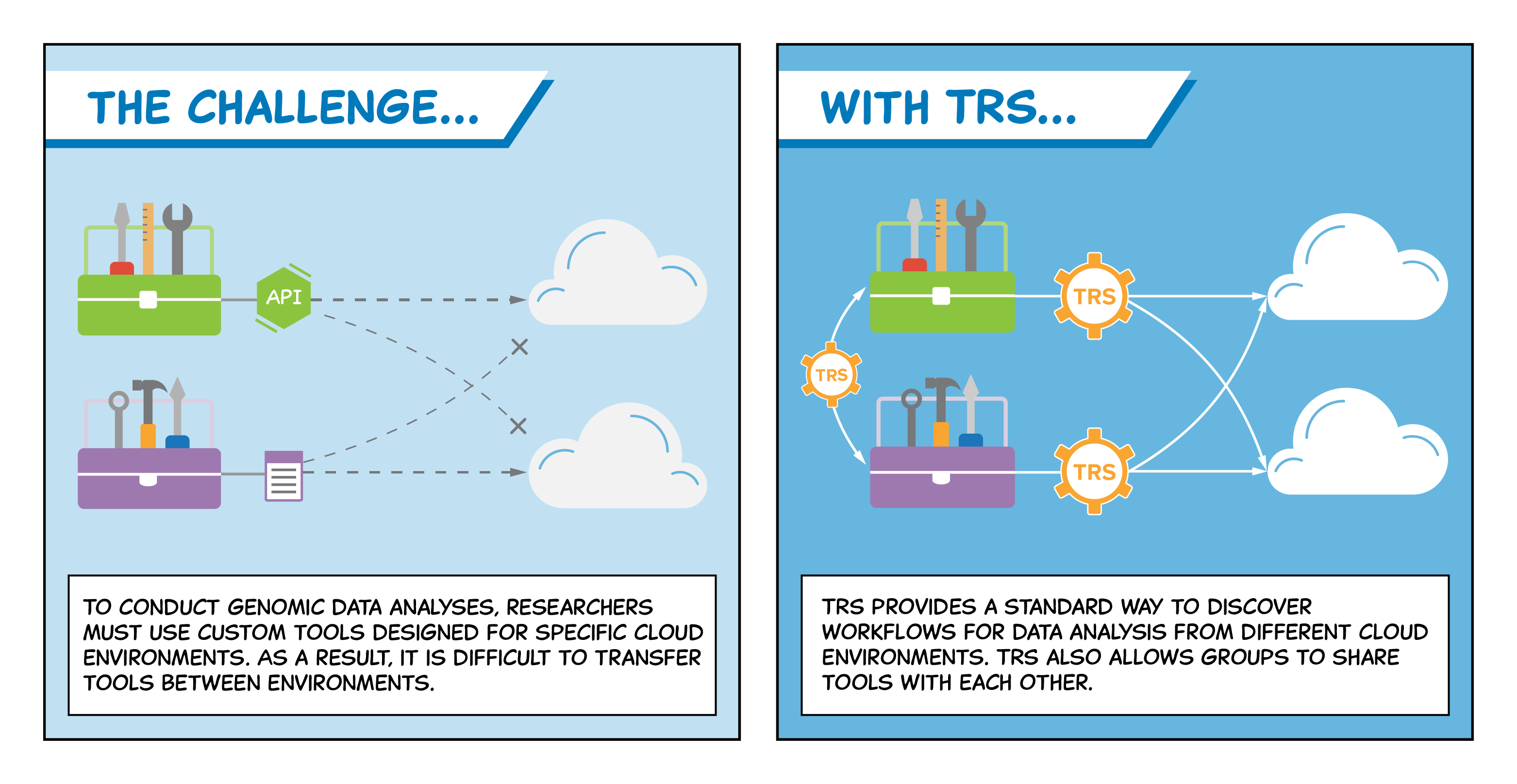 THEME
CATEGORY
TYPE
STATUS
Work Stream
LATEST VERSION
Product Lead
Staff Contact
Community resources
Dive deeper into this product! Interoperability among genomic tools and workflows is vital to conducting genomic analyses. Many challenges, however, persist. Genomic tools and workflows are often stored in a variety of different locations with incompatible metadata, are written in different workflow languages, and often do not have their dependencies documented in a consistent way. This makes it difficult for researchers from different groups — or even in some cases, for researchers from the same group at a different time — to re-run workflows. The TRS API provides an interoperable way to build and share workflows that function across different environments. TRS encourages the use of containerised tools and technologies, which allow researchers to package up tools and dependencies in an environment that moves easily and works on a wide variety of platforms.
Title
Info
Repeat
Day
Time
Duration
Working meeting for the development of the GA4GH Cloud APIs such as DRS, WES, TES and TRS.
Meets on the second Monday of each month at 6pm BST. Complemented by the Cloud Work Stream meeting (late) meeting, which takes place on the 4th Monday of each month.
Title
Related Driver Projects and Organisations
Don't see your name? Fill out our form:
Salvador Capella-Gutierrez
Barcelona Supercomputing Center
Joaquin Dopazo
Progress and Health Foundation
James Eddy
Sage Bionetworks
Marc Fiume
DNAstack
David Glazer
Verily
Alexander Kanitz
University of Basel
Patrick Magee
DNAstack
Brian O'Connor
Sage Bionetworks
David Steinberg
University of California, Santa Cruz
Susheel Varma
Information Commissioner's Office
Denis Yuen
Ontario Institute for Cancer Research (OICR)
Christina Yung
Ontario Institute for Cancer Research (OICR), Indoc Research
News, events, and more
Catch up with all news and articles associated with Tool Registry Service (TRS).