Framework for responsible sharing of genomic and health-related data
Provides foundational principles for responsible data sharing
To advance our understanding of human health and disease, we need to share genomic and related health data. The Framework for responsible sharing of genomic and health-related data, or the Framework for short, is guided by human rights, privacy, non-discrimination, and procedural fairness. All products developed by GA4GH build on the foundation of the Framework.
Jump to...
Benefits
Provides a foundation for enabling responsible genomic and related health data sharing
Centres human rights in decisions about whether and how to share data
Target users
Researchers, clinicians, clinical laboratories, data generators, data custodians, data access committees, ethics review committees, data protection authorities, funding agencies, developers, research participants & patient communities, security officers, and research institutes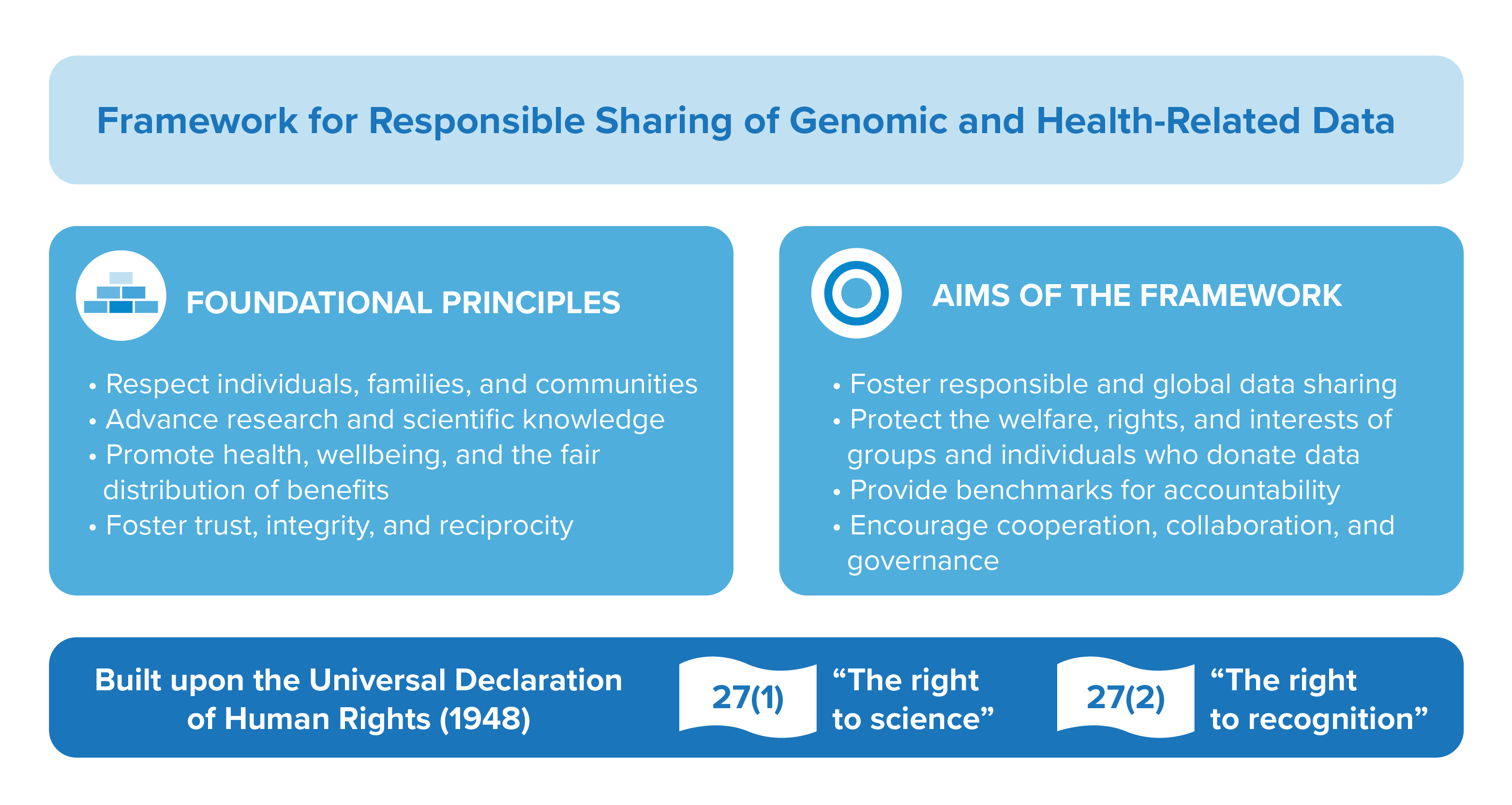 THEME
CATEGORY
TYPE
STATUS
Work Stream
LATEST VERSION
Product Lead
Staff Contact
Community resources
Dive deeper into this product! Sharing genomic and health-related data for biomedical research is vital to ensure continued progress in our understanding of human health and well-being. The challenges raised by international, collaborative research require a framework that brings together a diverse group of people to share principles about data exchange. The goal of the Framework for responsible sharing of genomic and health-related data, or the Framework for short, shares foundational principles and core elements that should guide responsible data sharing. The Framework aims to protect and promote the rights and interests of individuals globally in relation to data sharing; complement laws and regulations on privacy and personal data collection; foster responsible and international data sharing; serve as a dynamic instrument that can respond to changes in the field; and provide overarching principles to be respected in developing legally-binding tools. All standards and policies developed by GA4GH are built upon the foundation laid out in the Framework.
Title
Related Driver Projects and Organisations
Don't see your name? Fill out our form:
Fabiana Arzuaga
Ministerio de Ciencia, Tecnología e Innovación
Dixie Baker
Martin, Blanck and Associates
Knox Carey
Intertrust Technologies Corporation
Esmeralda Casas-Silva
NIH National Cancer Institute (NCI)
Megan Doerr
Sage Bionetworks
Clara Gaff
Melbourne Genomics Health Alliance
Michael Hoffman
Princess Margaret Cancer Centre
Saumya Jamuar
KK Women's and Children's Hospital
Tommi Nyrönen
CSC – IT CENTER FOR SCIENCE
Christine Patch
Wellcome Connecting Science, Wellcome Genome Campus
Sharon Terry
Genetic Alliance
David Torrents
Barcelona Supercomputing Center
Susheel Varma
Information Commissioner's Office
Craig Voisin
Google LLC
Eva Winkler
German Cancer Research Center (DKFZ) / National Center for Tumor Diseases (NCT)
News, events, and more
Catch up with all news and articles associated with Framework for responsible sharing of genomic and health-related data.