Consent Policy
Provides guidelines for the international sharing of genomic and related health data
Informed consent is a bedrock principle underlying the ethical conduct of research and clinical practice. The Consent Policy aims to guide the sharing of genomic and related health data in a way that respects autonomous decision-making while promoting the common good of international data sharing. Developed by the GA4GH Regulatory & Ethics Work Stream (REWS), the Consent Policy aims to maximise responsible and respectful global data sharing through the design of consent forms for data collection.
Jump to...
Benefits
Provides translatable best practices to implement informed consent
Promotes lawful and ethical data sharing consistent with a data subject's consent, authorisation by competent authorities, and applicable laws
Target users
Ethics review committees, and data protection authorities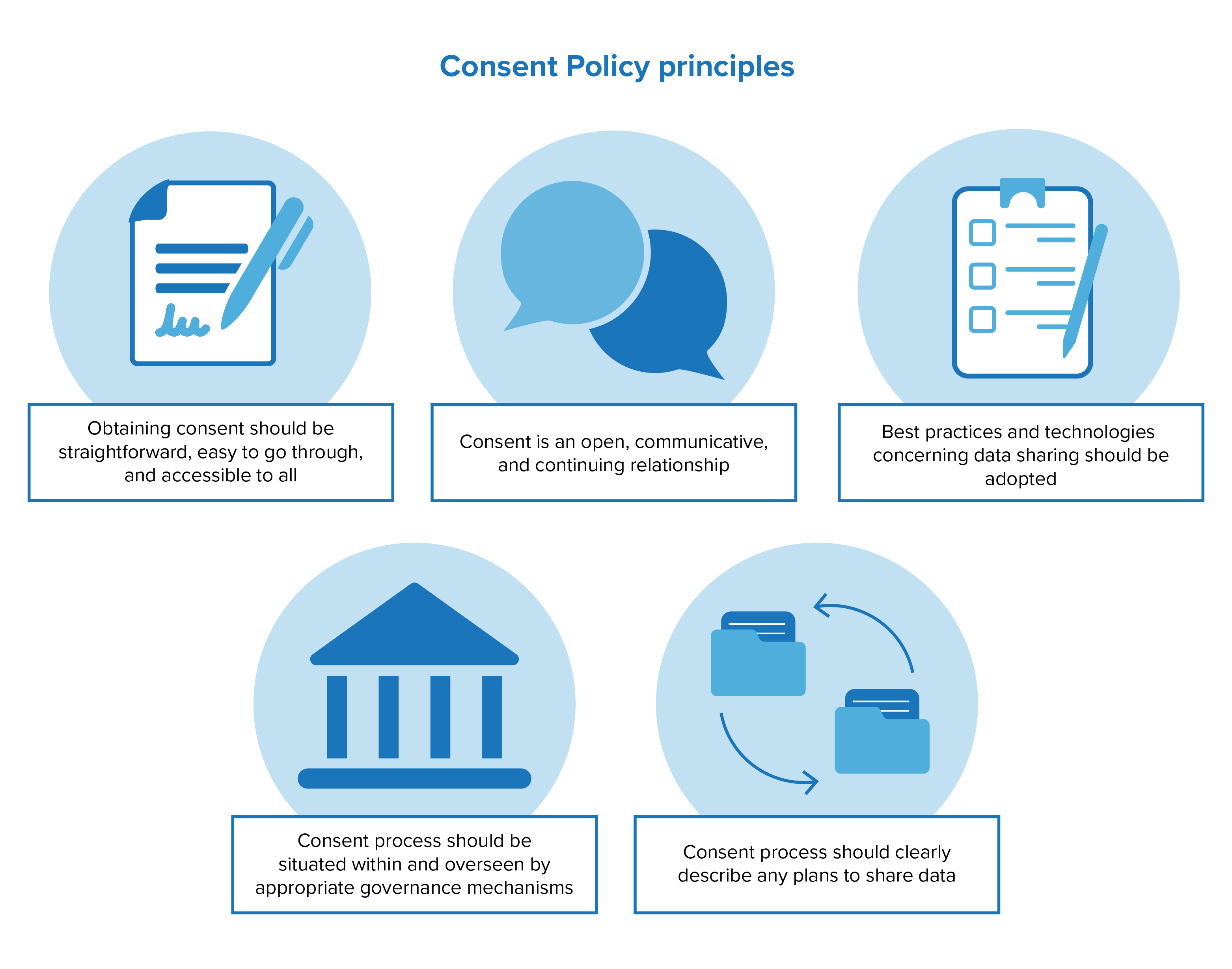 THEME
CATEGORY
TYPE
STATUS
Work Stream
LATEST VERSION
Staff Contact
Community resources
Dive deeper into this product!
The Consent Policy encompasses data that have been consented to by data donors or their legal representatives, or approved for use by competent authorities in compliance with national and international laws, general ethical principles, and best practices that respect restrictions on downstream uses. This includes recognition that the consent process is situated within and overseen by appropriate governance mechanisms.
This policy is founded on the following basic principles:
consent is an open, communicative and, ideally, continuing relationship;
there is an intention to share data across clinical or research groups, or jurisdictions and national borders, with appropriate approvals in place;
plans for data sharing should be transparent, understandable, and accessible;
data donors have a right to not participate in international data sharing or, if participating, are able to withdraw, with the understanding that it may not be possible to retrieve or destroy data once shared;
data users and data producers will abide by applicable regulations and ethical norms when seeking and conducting international data sharing.
Don't see your name? Fill out our form:
Shu Hui Chen
NIH National Heart, Lung, and Blood Institute (NHLBI)
Megan Doerr
Sage Bionetworks
Ramon Felciano
Digital Alchemy
Jaime Guidry Auvil
NIH National Cancer Institute (NCI)
Arthur Hermann
Kaiser Permanente
Joanne Ngeow
National Cancer Centre Singapore
Pilar Nicolas
Independent Contributor, University of the Basque Country
Dina Paltoo
NIH National Heart, Lung, and Blood Institute (NHLBI)
Christine Patch
Wellcome Connecting Science, Wellcome Genome Campus
Amicia Phillips
KU Leuven
Pedro Rondot Radío
Angel H. Roffo Institute of Oncology
Rosalyn Ryan
Healthfox US Inc
Adrian Thorogood
Terry Fox Research Institute
Susan E. Wallace
University of Leicester
Eva Winkler
German Cancer Research Center (DKFZ) / National Center for Tumor Diseases (NCT)
News, events, and more
Catch up with all news and articles associated with Consent Policy.