Data Use Ontology approved as a GA4GH technical standard
8 Feb 2019
The Steering Committee of the Global Alliance for Genomics and Health (GA4GH) unanimously approved the Data Use Ontology (DUO) for inclusion in its suite of technical standards for sharing genomic and health related data.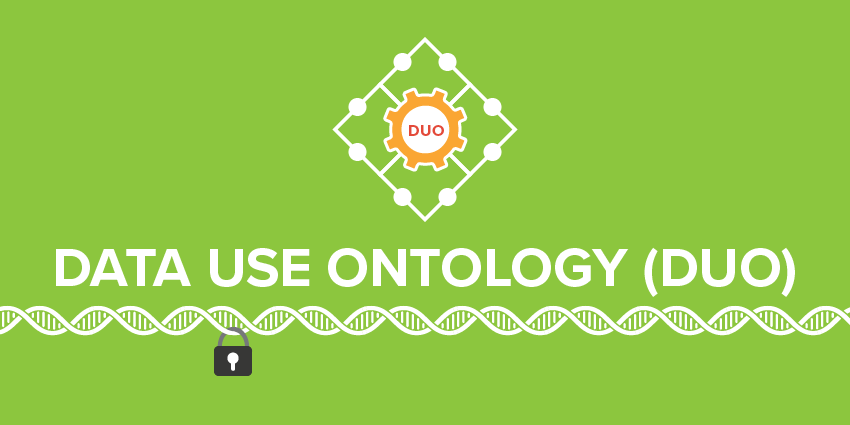 The Steering Committee of the Global Alliance for Genomics and Health (GA4GH) has unanimously approved the Data Use Ontology (DUO) for inclusion in its suite of technical standards for sharing genomic and health related data.
Every institution uses unique language in their informed consent forms to describe the secondary use restrictions and conditions on their datasets. This means that each data access request must be manually evaluated against the data use letter that specifies how the dataset can be used. Consequently, Data Access Committees typically respond to such requests in two to six weeks, considerably slowing down the pace of research.
Developed by the GA4GH Data Use and Researcher Identities (DURI) Work Stream to address this challenge, DUO has three main features:  
(1) DUO provides a shared understanding of the meaning of data use categories. Each DUO term was developed with community consensus and includes a human readable definition, which can be expanded by adding optional comments or example uses. This allows data stewards across different resources to consistently tag their datasets with common restrictions on how those data can be used.
(2) DUO is distributed as a machine-readable file that encodes both how the data can be used (data use categories) and how a researcher intends to use the data (additional terms that define intended research usage). This file is publicly available, versioned, and written using the W3C standard OWL Web Ontology Language and following Open Biological and Biomedical Ontologies development principles. DUO-enabled datasets are automatically discoverable for secondary research within databases such as the European Genome-phenome Archive (EGA) at EMBL's European Bioinformatics Institute and the Centre for Genomic Regulation. A researcher can query EGA, or any database that has implemented DUO, and only receive data that matches his/her intended use and/or authorization level.
(3) DUO can be implemented alongside an advanced search algorithm, such as the Broad Institute's Data Use Oversight System (DUOS), which  allows authenticated users to query and gain access to datasets pertaining to their research. For example, an industry researcher working on cancer would be matched to any dataset that is allowed for commercial use and for cancer research and offered the opportunity to fetch them automatically.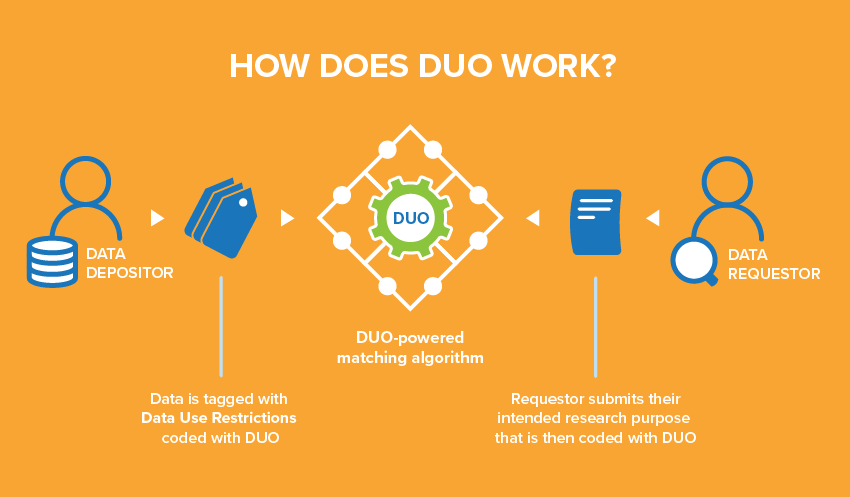 "DUO makes it possible to automatically match data access restrictions and requests. This means that in the vast majority of cases tedious manual work can be replaced by algorithms, not only freeing up a DAC's time and resources, but also greatly increasing the speed of query-to-data for researchers," said Melanie Courtot, Metadata Standards coordinator at EMBL-EBI and co-lead of the DURI subgroup that developed DUO.
DUO leverages and extends previous GA4GH endeavors, such as Consent Codes (Dyke et al. 2016) and Automatable Discovery and Access Matrix (Woolley & Brookes et al, 2018), as well as all existing terms in dbGaP, the NIH database of Genotypes and Phenotypes.
DUO represents one half of a single sign-on framework for automatically granting researchers access to multiple datasets based on their credentials. DUO provides the matching between data use restrictions and intended research use, while the DURI Researcher Identities provide researcher authentication.
"Ultimately, we hope the DURI platform will allow researchers to seamlessly search for and automatically access data that they are authorized to use," said Moran Cabili, co-lead of the GA4GH DURI Work Stream. "Systems that match Researcher Identities & access queries to DUO codes will provide this powerful service to the community, enabling an overall more efficient research endeavor, and a faster pace of learning and discovery."
In addition to the EGA, DUO has already been implemented into the All Of Us Researcher Portal to capture research purpose, the NHLBI Data STAGE environment to tag TOPMed datasets, and the DUOS at the Broad Institute of MIT and Harvard to represent both datasets and search terms, enabling a full end-to-end discovery query.
The latest released version of the DUO OWL files is always available at http://purl.obolibrary.org/obo/duo.owl and can be browsed at http://purl.obolibrary.org/obo/DUO_0000001. Documentation can be found online at https://github.com/EBISPOT/DUO. To learn more about the DURI Work Stream and get involved in its development activities or ask questions of the team, please visit their online workspace.
Latest News