Data Repository Service (DRS)
Provides a standardised set of data retrieval methods
In order to analyse genomic data in the cloud, a researcher must use an access tool to retrieve the file. Today, however, data repositories are crowded with files. As a result, the process for retrieving a data set is complex and inefficient. To address this challenge, the GA4GH Cloud Work Stream has developed the Data Repository Service (DRS) API, which provides a standard way to retrieve a dataset regardless of the repository's underlying architecture.
Jump to...
Benefits
Provides a standardised set of data access methods that are agnostic to cloud infrastructure
Allows for data access regardless of storage location or how the data is managed
Target users
Researchers, data custodians, and developers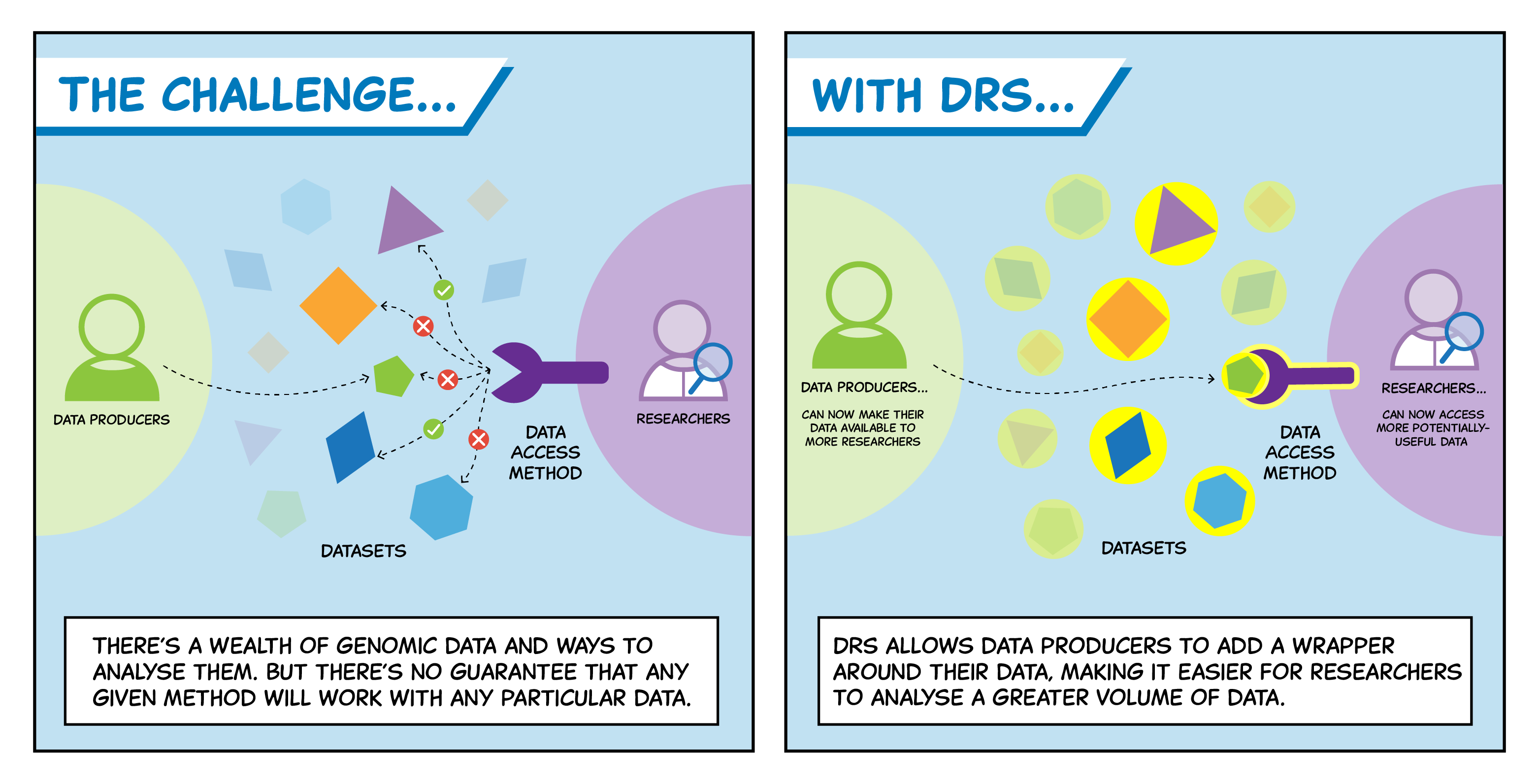 THEME
CATEGORY
TYPE
STATUS
Work Stream
LATEST VERSION
Product Leads
Brian O'Connor
Michael Lukowski
Staff Contact
Community resources
Dive deeper into this product! Healthcare and research ecosystems contain potentially useful data to researchers and clinicians. Yet due to the varying and complex architecture of different data repositories, they often need custom tools to retrieve and work with genomic datasets. A standard is necessary to support both data producers in making their data available and researchers in accessing the data in a streamlined way. DRS maps a logical ID to a means for physically retrieving the data represented by the ID.
Title
Info
Repeat
Day
Time
Duration
Working meeting for the development of the GA4GH Cloud APIs such as DRS, WES, TES and TRS.
Meets on the second Monday of each month at 6pm BST. Complemented by the Cloud Work Stream meeting (late) meeting, which takes place on the 4th Monday of each month.
Title
Related Driver Projects and Organisations
Don't see your name? Fill out our form:
Jeremy Adams
DNAstack
Dashrath Chauhan
EMBL's European Bioinformatics Institute (EBI)
Kyle Ferriter
Broad Institute of MIT and Harvard
Marc Fiume
DNAstack
Ian Fore
NIH National Center for Biotechnology Information (NCBI)
David Glazer
Verily
Allison Heath
Children's Hospital of Philadelphia
Alexander Kanitz
University of Basel
Michael Lukowski
University of Chicago
Patrick Magee
DNAstack
Alice Mann
Wellcome Sanger Institute (WSI)
Michele Mattioni
Seven Bridges Genomics, Inc.
Brian O'Connor
Sage Bionetworks
Jimmy Payyappilly
EMBL's European Bioinformatics Institute (EBI)
Shaikh Farhan Rashid
University Health Network, Canadian Distributed Infrastructure for Genomics (CanDIG)
David Steinberg
University of California, Santa Cruz
Surya Surya
Seven Bridges Genomics, Inc.
Susheel Varma
Information Commissioner's Office
Douglas Voet
Broad Institute of MIT and Harvard
Brian Walsh
Knight Diagnostic Laboratories, Oregon Health & Science University
Denis Yuen
Ontario Institute for Cancer Research (OICR)
Christina Yung
Ontario Institute for Cancer Research (OICR), Indoc Research
News, events, and more
Catch up with all news and articles associated with Data Repository Service (DRS).