GA4GH receives funding from CIHR to advance data sharing tools in the fight against COVID-19
9 Aug 2021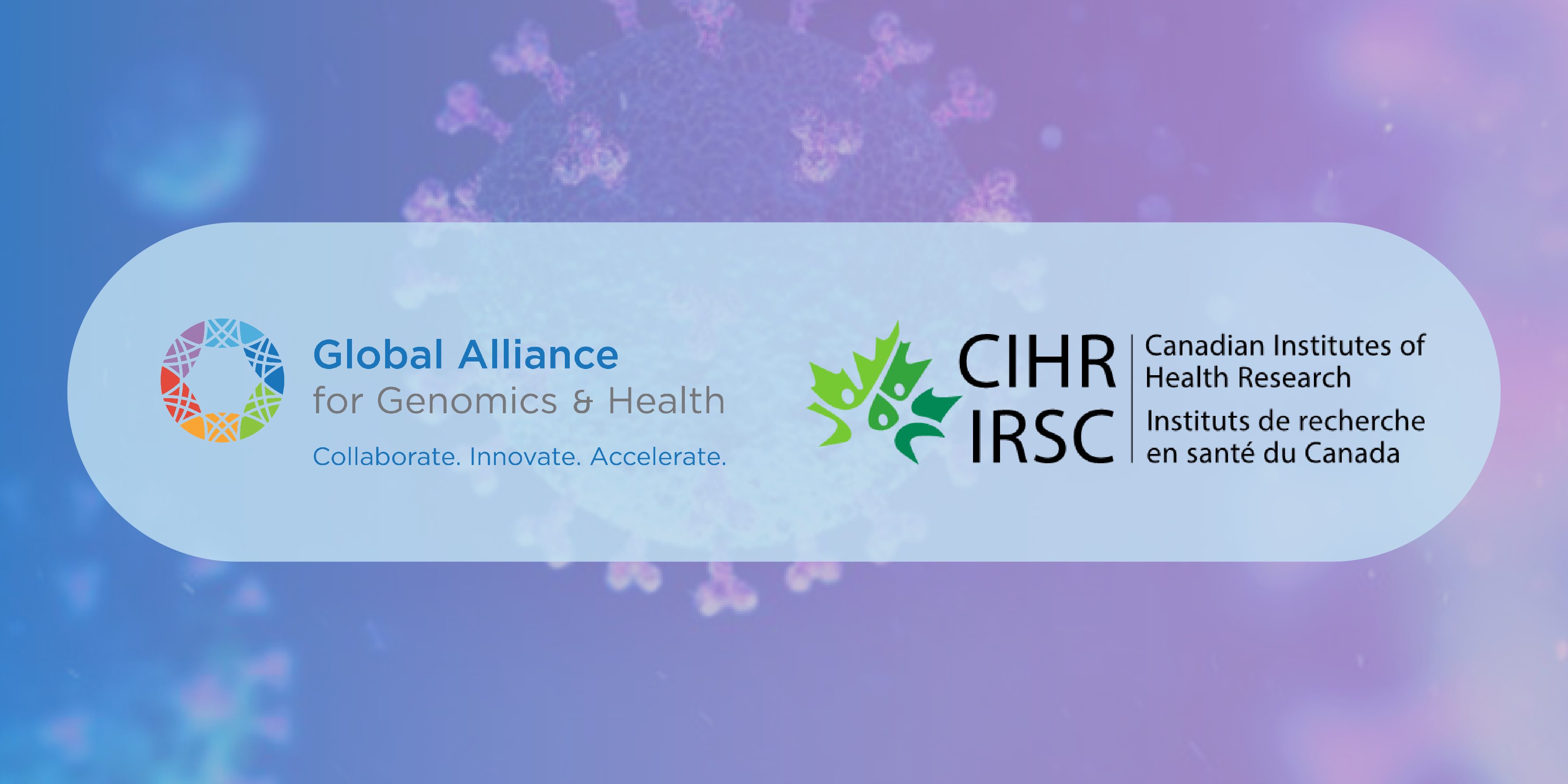 GA4GH has received funding from the Canadian Institutes of Health Research (CIHR) in order to advance data sharing tools in the fight against COVID-19.
As the federal funding agency for health research, CIHR has been vital to Canada's COVID-19 response—contributing almost $250 million to support more than 400 COVID-19 research projects across the country, including a major effort to survey, sequence, trace, and research variants of concern identified in Canada through the Coronavirus Variants Rapid Response Network (CoVaRR-Net). CIHR has also partnered with organizations such as the World Health Organization (WHO) and the Global Research Collaboration for Infectious Disease Preparedness to ensure alignment and coordination at a global level. 
"Canadian funding agencies have been critical to the work of GA4GH since 2014," said Peter Goodhand, Chief Executive Officer of GA4GH. "Through CIHR's funding, we hope to strengthen international standards in order to more effectively respond to current developments and future outbreaks."
With the new funding support, GA4GH aims to further link Canada's research efforts to the international data sharing ecosystem via interoperable technical standards and policy frameworks. As the grant recipient, the Ontario Institute for Cancer Research (OICR)—which also serves as a GA4GH Host Institution—will serve as an active collaborator alongside several Canadian partners:CoVaRR-Net, the Digital Supercluster COVID Cloud, and the Canadian COVID-19 Genomics Network (CanCOGeN) VirusSeq and HostSeq portals. Together, they will aim to advance and support uptake of GA4GH standards  within the Canadian COVID-19 research community. 
In addition, GA4GH international partners such as the Public Health Alliance for Genomic Epidemiology (PHA4GE), the International COVID-19 Data Alliance (ICODA), the COVID-19 Host Genetics Initiative, and the COVID-19 Genomics UK (COG-UK) consortium will help ensure that Canadian efforts are connected—both technically and strategically—to the broader international community. 
Strengthening these relationships will support findable, accessible, interoperable, and reproducible (FAIR) data and open science and will help enable the rapid and timely research response to new variants of concern in Canada and around the globe. 
The funding will be used to:
Adapt GA4GH human genomic data sharing standards and open source tools for SARS-CoV2 applications

Collaborate with infectious disease communities to ensure GA4GH standards are compatible with existing pathogen genomic and phenomic data sharing tools

Develop and maintaining GA4GH compatible systems to support responsible, international sharing of COVID-19 knowledge and data 

Support evidence generation to better inform health system management, public health response, and decision-making
Additionally, the GA4GH Regulatory and Ethics Work Stream (REWS) and the GA4GH Equity, Diversity, and Inclusion (EDI) advisory group will work with Pillar 7 of CoVarr-Net, which focuses on CIEDAR (COVID-19 Indigenous Engagement, Development, and Research) to identify specific concerns related to Indigenous populations when it comes to sharing data and developing responsible standards and tools. This relationship, as well as additional input from the community, will help REWS develop guidance on engaging marginalized/vulnerable communities to foster better pandemic data sharing based on the opportunities and hurdles of the Canadian and international COVID-19 experience.
Latest News