GA4GH names Dr Susan Fairley as Chief Standards Officer
1 Mar 2021
GA4GH names Dr. Susan Fairley as the organization's first ever Chief Standards Officer (CSO).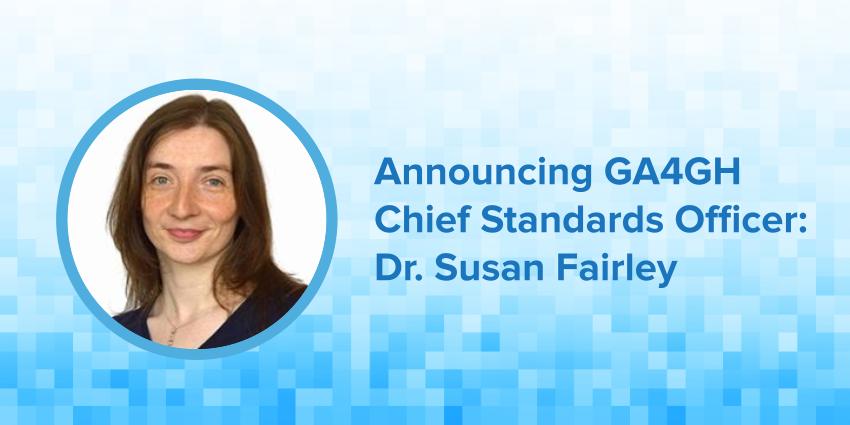 The Global Alliance for Genomics and Health has named Dr. Susan Fairley as the organization's first ever Chief Standards Officer (CSO). Located at EMBL's European Bioinformatics Institute (EMBL-EBI), Dr. Fairley will lead the standards development work of the international GA4GH technical staff team as well as that of more than 200 external contributors. 
Immediately prior to joining GA4GH, Dr. Fairley served as Project Lead for the International Genome Sample Resource (IGSR), which builds on the 1000 Genomes Project Data Coordination Centre and involves participation in international collaborations working with human genomes, specifically the Human Pangenome Reference Consortium (HPRC) and the Human Genome Structural Variation Consortium (HGSVC). She holds a doctoral degree in Computing Science from the University of Glasgow, and two masters degrees — in Microbiology and in Information Technology — also from the University of Glasgow. During her near twenty-years in bioinformatics, Dr. Fairley has also served as a bioinformatician at EMBL-EBI, the University of Aberdeen in Scotland, and the Wellcome Sanger Institute in England. 
"Clearly defined standards are essential in supporting the principles of Findable, Accessible, Interoperable and Reusable data, which in turn enable best use of data in research," said Dr. Fairley. "I am committed to the provision of scientific services and resources, and I believe that foundational infrastructure is critically important for biomedical research. I am delighted to be able to apply my experience to advancing the mission of responsible data sharing through this appointment at GA4GH."
In addition to her extensive and varied experience in genomics and formal training in computer science, Dr. Fairley has also worked closely with individuals from a range of disciplines, spanning IT, basic science, and medicine, throughout her career. 
As CSO, Dr. Fairley will have primary responsibility for the development and implementation of GA4GH technical standards consistent with strategy defined by the GA4GH CEO, Peter Goodhand, and the Executive Committee, chaired by EMBL-EBI Director and EMBL deputy director general, Ewan Birney.
Dr. Fairley's appointment comes on the heels of several new funding streams secured by the organization via Host Institutions in late 2020 and early 2021. The National Institutes of Health in the US, Wellcome, the Medical Research Council, and the National Institute of Health Research in the UK, and Genome Canada and the Canadian Institutes of Health Research in Canada will all join the newly formed GA4GH Funders' Forum, a group of core funder supporting the organization through annual commitments of $200K USD or more. A primary focus of these funding relationships is to advance the development of the GA4GH Core Technical Team, over which Dr. Fairley will have direct responsibility.
Distributed across multiple host institutions and countries, this growing group of GA4GH-employed technical developers supports the work of external contributors and ensures consistent, ongoing standards development. The Core Team has three primary functions: (1) to advance standards development activities unlikely to be carried out by external contributors (e.g., building compliance and interoperability testbeds and frameworks, writing documentation), (2) to develop services and tools to make GA4GH standards more accessible to researchers (e.g. client tools in widely-used bioinformatics libraries, reference implementations, registry APIs), and (3) to maintain applications and services to ensure the longevity of GA4GH standards.
"We are beyond excited to welcome Susan to the GA4GH staff team in this critical leadership role," said Goodhand. "Her appointment marks a new chapter for GA4GH, one that is focused not just on advancing forward looking technical solutions to data sharing, but also on ensuring standards are mature enough to effectively support participation of the global community in this important endeavor."
Prof. Birney announced the news during opening remarks at the organization's annual working meeting, GA4GH Connect. "I'm so delighted to welcome Susan as CSO for GA4GH. She has overseen complex technical projects and brought together global genomics projects both with a delivery mindset. I look forward to working with her as we take GA4GH into its second decade of operation."
Latest News