GA4GH Community Spotlight: Kristina Kékesi-Lafrance
4 Feb 2022
This GA4GH Community Post is the ninth in our monthly series featuring individuals from across our organization. This month we are turning the spotlight on Kristina Kékesi-Lafrance!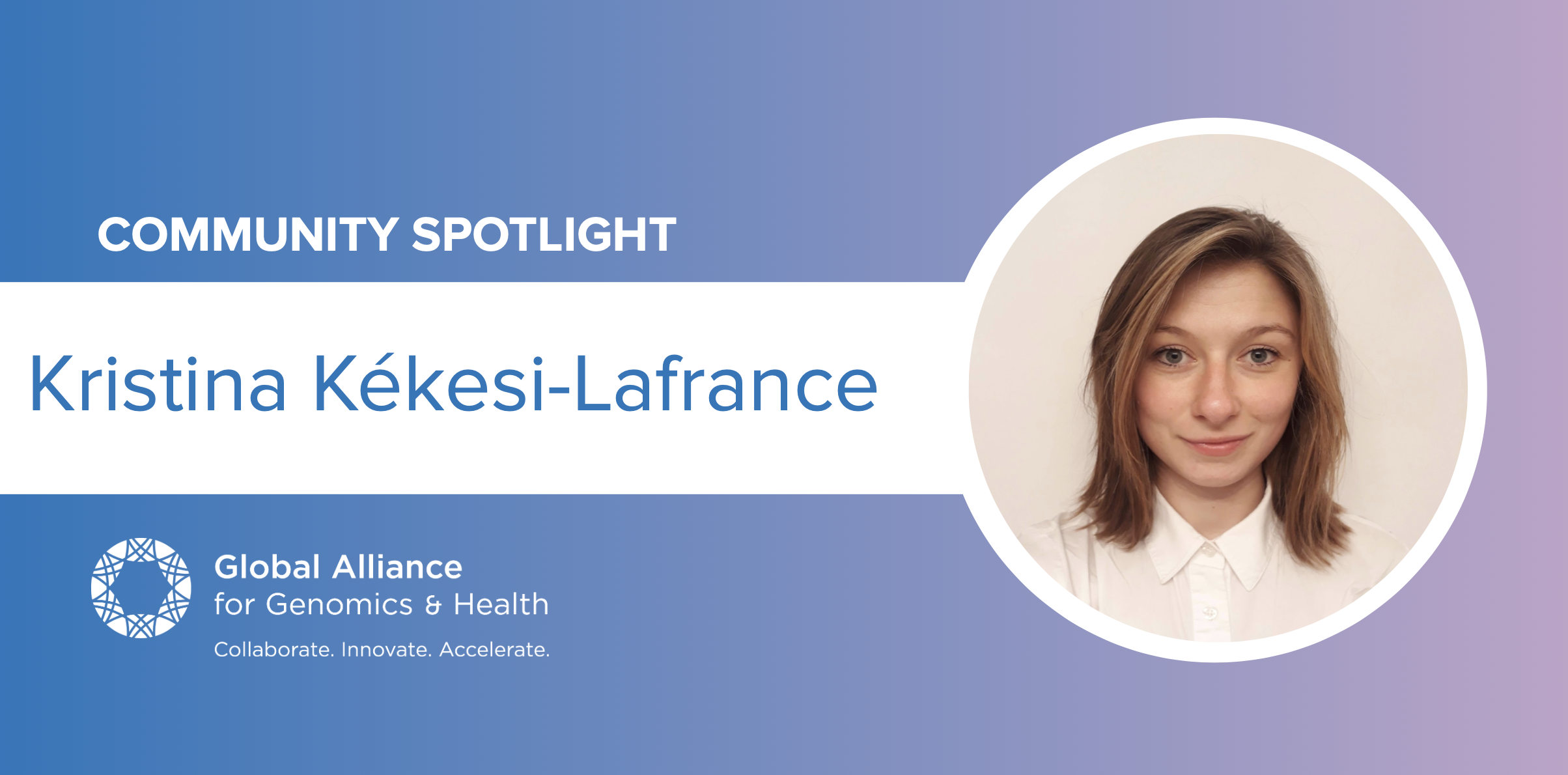 This GA4GH Community Post is the ninth in our monthly series featuring individuals from across our organization. This month we are turning the spotlight on Kristina Kékesi-Lafrance! Kékesi-Lafrance is a lawyer and Masters of Law (LLM) candidate in Bioethics at the McGill Faculty of Law. While she completed her undergraduate studies at Sherbrooke University Law Faculty, Kékesi-Lafrance also studied abroad for a semester at the Law Faculty of Université Libre de Bruxelles. After successfully passing her bar exams, Kékesi-Lafrance was called to the Quebec Bar in July 2018. She practiced as a lawyer in an international firm for over a year before joining the Centre of Genomics and Policy (CGP). As an Academic Associate, Kékesi-Lafrance is interested in how law and ethics interact in the field of genomics. She is involved in different projects in both clinical and research ethics as well as international privacy laws and biobanking. 
 What current projects are you working on? 
As a Policy Developer for REWS, I work on a variety of projects. Mainly, I am involved in the GA4GH Consent Task Force, for which I act as the coordinator. This international working group has undertaken the ambitious task of harmonizing genomic consent clauses in both the research and clinical settings. We have developed sampled language for genomic research, large-scale initiatives (biobanking and population studies), and we are currently finalizing consent clauses for whole-genome sequencing in clinical care. Across these categories, we also provide the international genomic community with familial and pediatric consent clauses. Of course, the language we develop, although respectful of their respective ethical-legal context, needs to be adapted to local regulations and cultural norms. Nonetheless, we hope to offer a universal language foundation for those drafting consent forms in genomics. 
What is your favorite thing about the GA4GH Community and why? 
I am deeply inspired by the multidisciplinary nature of our community. As a lawyer, working with scientists, policymakers, doctors, and any other non-lawyer expert is a true privilege. I am curious by nature, which makes this working environment a wonderful fit. Working with so many experts in so many different fields is also very humbling. It makes us realize that none of our work would be possible without our shared expertise. Necessarily, collaboration is one of our strongest tools. It is also worth mentioning that the pandemic didn't affect our collaborators' commitment. On the contrary, even if spread thinner than before, they pursue their involvement with GA4GH as part of their broader commitment to global health. Of course, we needed to adapt, but we are used to working virtually with people across many time zones. Seeing our community come together, stronger than ever, even within a global pandemic was extremely inspiring. 
What advice would you give to individuals seeking to get more involved with GA4GH?
Give it a try! My answer above may seem intimidating for some, at first, but it actually translates how much enthusiasm we have learning daily together. Given that we all have very different backgrounds, we are always outside of our comfort zones, which makes our work very exciting. Everyone is also extremely generous with their time and loves to help others understand concepts they are not familiar with. Since we build our community on others and rely on external expertise to be able to do the work we do, newcomers are always very welcome. We always seek comments/feedback from the public on the tools we develop. We want to make sure we didn't miss anything while developing our standards and that all perspectives were considered. So please join the conversation!
Latest News