GA4GH Community Spotlight: Alice Mann
7 Aug 2021
This GA4GH Community Spotlight is the third in a monthly series featuring individuals from across GA4GH. This month, we are speaking with Alice Mann a member of our Secretariat of professional staff.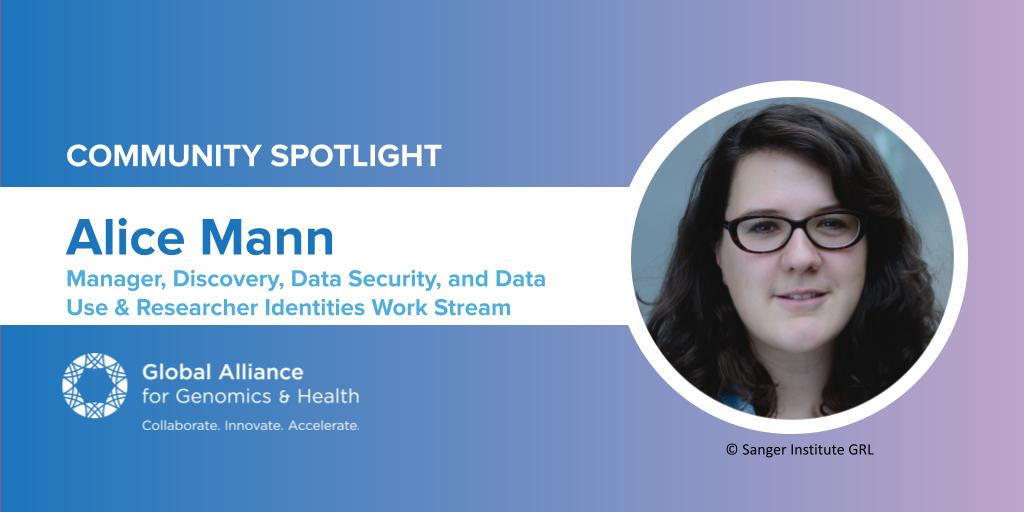 This GA4GH Community Spotlight is the third in a monthly series featuring individuals from across GA4GH. Alice Mann joined GA4GH in May 2021 in her role as Work Stream Manager after previously working in Open Targets and as a postdoc in functional genomics at the Wellcome Sanger Institute. Read to learn more about Alice.
What current projects are you working on?
I am the Work Stream Manager for the Data Security, Discovery and Data use and Researcher Identities Work Streams. Having recently started, I am working on building my expertise of the standards and products developed by these Work Streams. I am also really enjoying working with our vast network of fantastic volunteers and meeting more people working in the Genomics space. Going forward, I hope to develop cross Work Stream collaboration and interconnections of various standards.
What scientific discovery throughout history is most fascinating to you? 
I have always been fascinated with everything about DNA. The journey of scientific discovery and understanding is truly inspirational. Thinking back to where it started almost 200 years ago with the realisation that this molecule behaved differently to proteins to uncover the structure to devising the first methods of DNA sequencing. It is a marvel of human biology that a molecule seemingly so simple is actually so powerful and forms the basis of life! My childhood fascination with DNA led to me reading Biochemistry at the University of Oxford, then to a PhD at the Sanger Institute and now continuing a career in Genomics by contributing to GA4GH's important mission of genomic data sharing.
How do you think genomic data standards will shape the world in 20 years?
I joined GA4GH because their aim of achieving rapid and equitable access to genomic data is so vital for this type of data to positively impact patients and society. With the widespread adoption of genomic standards, the burden of accessing and analysing data should be dramatically reduced. I hope this then opens up opportunities for a global increase in the understanding of human health ultimately benefiting us all.
What advice would you give to individuals seeking to get more involved with GA4GH?
Everyone in GA4GH is so welcoming and approachable, so please do not hesitate to get involved. Sign up the newsletter, come along to some meetings and if you need anything or have any questions, contact the relevant Work Stream Manager for some help (that's me for Data Security, DURI and Discovery!)
Latest News