GA4GH 2019 leadership transitions
10 Dec 2018
It is with great enthusiasm and gratitude that we announce several changes to the GA4GH leadership team: Heidi Rehm replaces David Haussler as Vice Chair; Moran Cabili and Tommi Nyrönen replace Ravi Pandya and Anthony Philippakis as DURI Work Stream Leads; Michael Baudis replaces Harindra Arachchi as Discovery Work Stream Lead; and Jean-Pierre Hubaux replaces Paul Flicek as Data Security Work Stream Lead.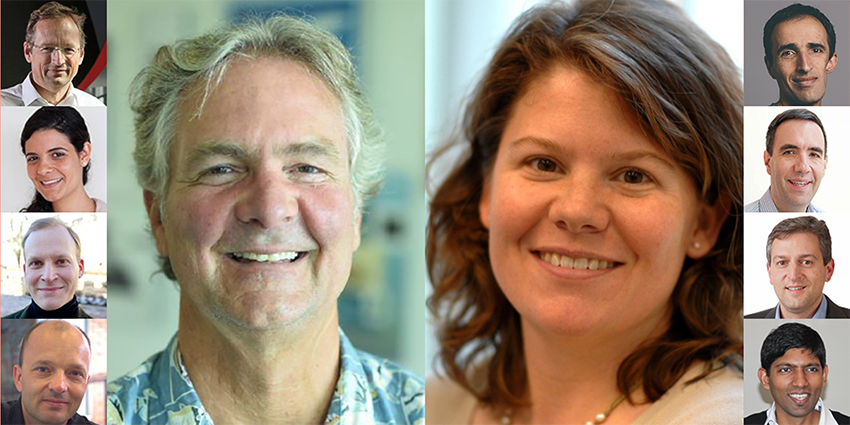 It is with great enthusiasm and gratitude that we announce several changes to the GA4GH leadership team.
First, we would like to formally thank outgoing GA4GH Vice Chair David Haussler, Scientific Director of the University of California Santa Cruz Genomics Institute, for serving GA4GH from its infancy and providing invaluable vision and guidance to the data sharing community. David's contributions include planning and participating in the initial scoping meeting in 2013, co-authoring the White Paper that set the mandate for what became the Global Alliance for Genomics and Health, serving as co-chair of the Data Working Group from 2014 to 2017, and dedicating time, resources, and person power to the GA4GH Working Groups, Work Streams, and original Demonstration Projects — particularly the BRCA Challenge. David has passionately advocated for GA4GH in his many speaking engagements, bringing significant support and recognition to the organisation. Needless to say, David has been critical to our success and we look forward to continued engagement with him and his talented team.
David is succeeded by Heidi Rehm, an institute member at the Broad Institute of MIT and Harvard and chief genomics officer at Massachusetts General Hospital. Heidi joins Kathryn North as a GA4GH Vice Chair. Heidi is by no means a newcomer to our community. Over the years she has served a variety of roles at GA4GH including founding co-lead of the former GA4GH Demonstration Project Matchmaker Exchange (MME), Driver Project Champion for both MME and ClinGen, Steering Committee Member, 5th Plenary Programme Committee Chair, and frequent contributor to a number of Work Streams, including Discovery, Genomic Knowledge Standards, and Clinical and Phenotypic Data Capture.
In addition to these executive level changes, there have been a few transitions among GA4GH Work Streams Leads. Both Ravi Pandya (Microsoft) and Anthony Philippakis (Broad Institute) have stepped down as Co-Chairs of the Data Use and Researcher Identities Work Stream, to be replaced by Moran Cabili, Associate Director of Data Strategy and Alliances at Broad Institute's Data Science Platform, and Tommi Nyrönen, Head of the ELIXIR Finland Node, which is hosted at CSC-IT Center for Science Finland.
Harindra Arachchi stepped down as Co-Lead of the Discovery Work Stream when he began a new role at the commercial company Editas Medicine in Cambridge, MA. Harindra is succeeded by Michael Baudis, a professor of bioinformatics (theoretical cytogenetics and oncogenomics) at the University of Zurich UZH and the Swiss Institute of Bioinformatics SIB.
Finally, After more than four years of leadership, Paul Flicek, a senior scientist and team leader at EMBL-EBI, is stepping down as Co-Chair of the Data Security Work Stream. Paul has been an instrumental member of the GA4GH community, having contributed to the GA4GH White Paper and serving as the founding Co-Chair of the Security Working Group. We will continue to work with Paul's wider group at EMBL-EBI, in particular via Andy Yates' continued leadership in the Genome Knowledge Standards Work Stream.
Paul is succeeded by Jean-Pierre Hubaux, Professor of Computer and Communication Science and Head of the Computer Communications and Applications Laboratory at EPFL in Lausanne, Switzerland. Jean-Pierre (JP) leads the Data Protection For Personalized Health project. He has co-organised the GenoPri event alongside GA4GH plenaries over the last couple of years, and we look forward to his practical and academic interest in security.
We would like to thank every one of these individuals for their service to GA4GH over the past four years and into the future. Without passionate, dedicated contributors like them our organisation and its important work would not be possible.
Latest News